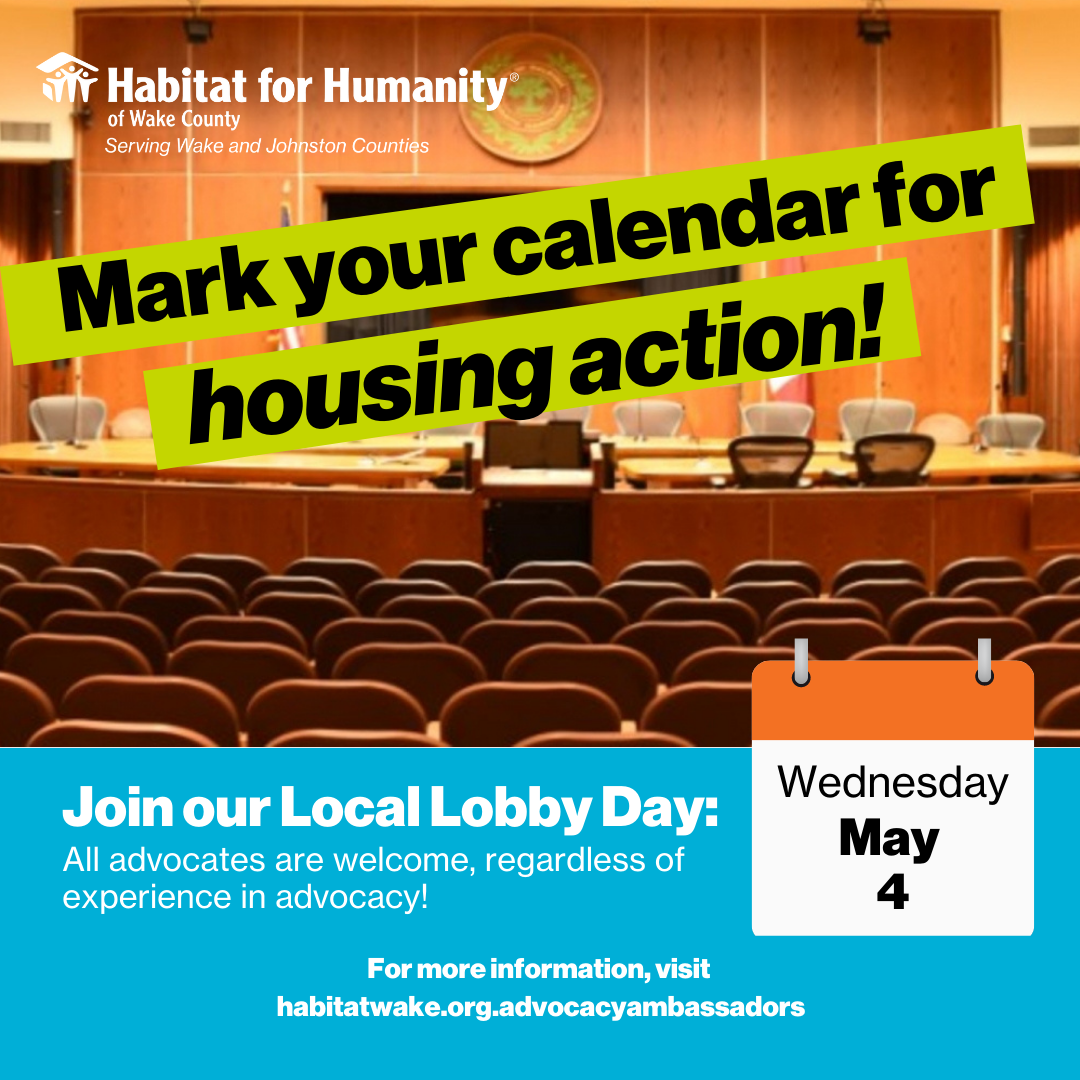 Habitat Wake's first-ever Local Lobby Day is set for May 4. Are you in? 
On Wednesday, May 4, Habitat Wake is gathering advocates from across Wake County to speak up for affordable housing. During this day of action, participants will meet with their local elected officials to make key asks based on the housing needs specific to their municipality.  
FAQ - Here's what you need to know about the Local Lobby Day: 
What time is the event? 
Meeting times will depend on the availability of participants and elected officials. Meetings will last 30-45 minutes and could be scheduled any time between 9am-5pm.  
Are meetings in-person or virtual? 
They could be in-person or virtual, depending on the preference of the elected officials.  
I want to attend! How do I sign up? 
That's great – please fill out this form to let us know your availability, municipality, and more.  
How will the meetings be scheduled? Do I need to contact my elected official? 
Habitat Wake's advocacy staff will take care of scheduling meetings for you! Once you fill out the registration form we will contact you with your meeting details.  
What am I supposed to talk about in my meeting? 
Generally, you will be speaking in support of affordable housing at the local level. The affordable housing needs vary between municipalities, so Habitat Wake advocacy staff will supply you with talking points and key asks specific to where you live.  
I've never joined a meeting with an elected official before. Is this open to beginners? 
This Lobby Day is open to anybody, regardless of experience with advocacy! There is room for you to be involved at whatever level you are comfortable with, whether that be leading a meeting or just as a viewer.  
Why are you hosting a Local Lobby Day? 
Housing affordability is one of the greatest challenges facing our community. One in every four households spends too much of their income on housing, and the problem is only increasing as our area grows. The Local Lobby Day is an opportunity for folks that live or work in Wake County to get organized on advocating for affordable housing and keep it as a key issue at the forefront of our elected officials' minds.