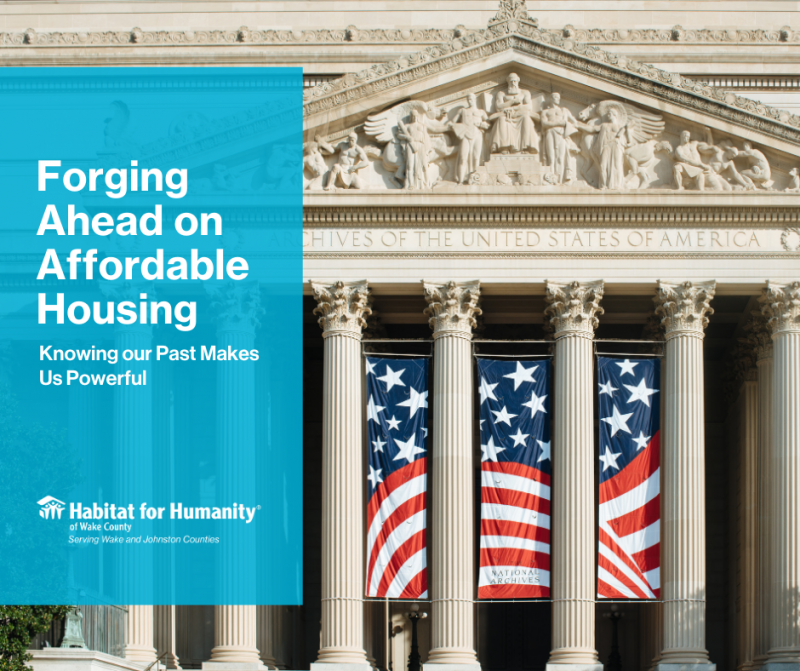 In the year since George Floyd's murder, Habitat Wake staff and partners have banded together like never before. We took opportunities for collective and individual grief, prayer and reflection. 
Though deeply saddening and enraging, this event did not take place in isolation. In fact, our work here in Wake and Johnston counties speaks to many foundational challenges facing Black communities, and in our solidarity with them, we continue to advocate for access to housing across the continuum and partner with other local agencies that address systemic issues further upstream of Habitat's work.  
We created and launched resources that detail the need for Habitat Wake's presence and devotion to increasing social equity in housing affordability. Our new Forging Ahead on Affordable Housing toolkit was formed in partnership with members of our Advocacy Committee and the N.C. State Caldwell Fellows, with help from the Wake County Register of Deeds, to show how racially restrictive covenants have shut Black families out of Raleigh's most prosperous neighborhoods. 
The Forging Ahead toolkit includes a map with census data layered over taxpayer funded resources to show the significant imbalance of investment in our city, drastically reducing the quality of life for Raleigh's historically Black neighborhoods. This reality has already been shaping our advocacy, but the resource adds to the imperative.  
We have hosted screenings of Richard Rothstein's 17-minute video, "Segregated by Design," internally and with partners. Our Diversity, Equity and Inclusion Committee has launched staff trainings to combat biases, and our advocacy efforts have multiplied thanks to the many community members who, after last summer, were galvanized to organize for a more just society. 
We continue to engage in the conversation around social equity with fervor and continued improvement built in to our plan, and we thank the many individuals and organizations whose partnership make it possible. We remain committed to learning, listening and increasing our accountability, and invite you to join us as we do.