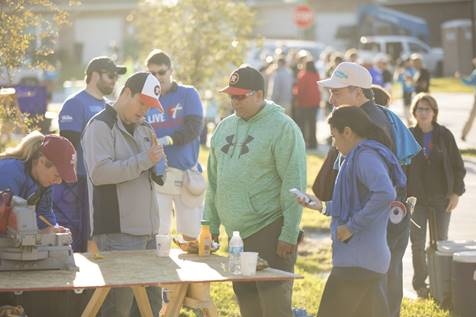 During a weather emergency, where you live and the condition of your home is critical.
Even though it quickly downgraded, Hurricane Florence has deeply affected the coasts of North and South Carolina and is hitting communities hard. Widespread flooding, debris, loss of power, and downed trees threatened homes, livelihood, and well being.
For Habitat Wake, housing is always on the table. The first thing we thought of was, "What about our families in Habitat houses?" Our second thought was, "What about the people who live in unsafe or substandard housing?"
We have a reputation in the community as being a leader in service, and as early as Monday of this week we were receiving calls from friends and partners in the area asking about how they could help. As a humanitarian organization with an essential role to play, we feel it is our responsibility to connect people to the resources to rebuild. If you want to be a part of helping the community, donate or sign up to volunteer.
This hurricane comes at a time when the cost of housing is at a critical tipping point and so many families are already hurting. Our Family Services team already provides financial education for our homeowner families, and the impact of the storm will only increase the need for careful planning and community response and support.
In addition, our Home Preservation teams work to repair roofs and exteriors of existing homes. The need for this kind of work is great and the results are important. These types of homes are on our minds as we think of the heavy rain and wind that Hurricane Florence brought to our area. Across all our construction sites, our timelines will be delayed, the cost of materials will rise, and volunteers will be spread thin with extra work to do. Existing Habitat homes may need our help too with repairing and rebuilding.
Habitat Wake has already connected with many partners in the community to provide preparedness resources to help minimize negative impacts, but as the next few days of aftermath unfold we'll learn what else needs to be done. We will work with other local Habitats, Habitat NC, and Habitat International to develop strategic plans. In the past, even as we rebuild our own community, we have sent donations and volunteers to other Habitat affiliates nearby. Habitat Wake is committed to making a difference, with your support! 
Seeking to put God's love into action, Habitat for Humanity of Wake County brings people together to build homes, communities, and hope. Since 1985, Habitat Wake has joined with sponsors, volunteers and families to build safe, affordable homes. Qualified homeowners invest 200 hours of sweat equity working on the construction of the home and purchase the home with an affordable mortgage. This year, Habitat Wake is building 75 new homes locally, completing exterior repairs on 50 homes as part of Neighborhood Revitalization, and funding construction of 125 homes globally.  
See our press release from September 17, 2018.