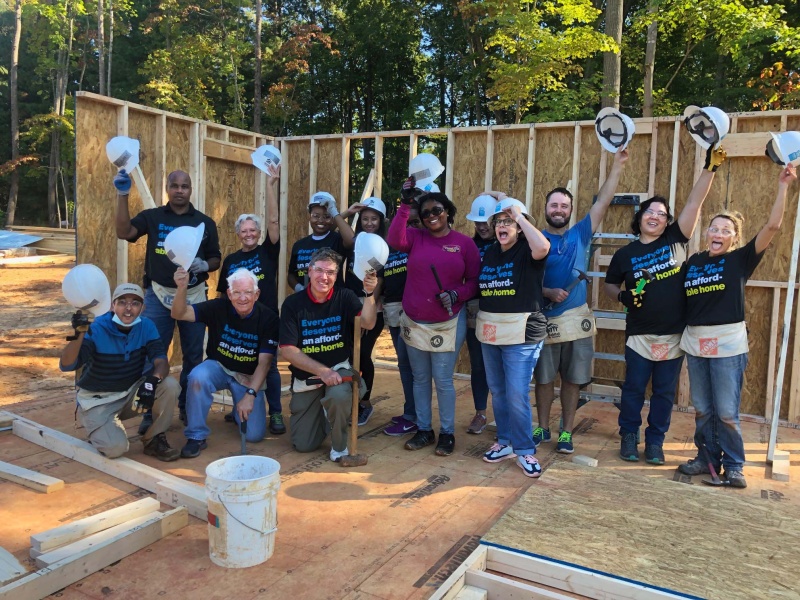 The sound of hammers on nails rang out on Trimble Avenue in Cary last Friday as elected officials came together to build an affordable home with Habitat Wake. Sixteen policymakers from local, state and federal office participated in the 4th annual Elected Officials Build, demonstrating their commitment to affordable housing through policy change and through their own "sweat equity."
"We invited policymakers to build with us because it's a fun way to inspire each other and come up with creative solutions to the affordable housing challenge," said Holly Gallagher, Habitat Wake Advocacy Specialist.
The houses on Trimble Avenue are just a few of the hundreds of affordable homes that Habitat Wake has built over the years, but we can't do it alone.
Policy change is the most important way to address the tremendous need for affordable housing in our community.
Every year, there is a net loss of 700-900 affordable units to the market in Wake and Johnston counties. Historically, discriminatory housing policy created a segregated, racialized housing landscape and prevented Black Americans from building wealth through homeownership. Policy change is how we correct the mistakes of the past.
Local municipalities play an important role in shaping affordable housing through zoning policy and land use planning. Local town and city council members are key decision makers for affordable housing, so the representation of elected officials from Apex, Cary, Garner, Morrisville, Knightdale and Wake County was encouraging.
Safe, affordable housing is critical to economic stability and resident success. "For the past 50 years, whenever I filled out documentation, whether at the doctor's office or bank account, home address was wherever I was living at the time, and the mailing address was always my parent's house, because I never knew how long I was going to be where I was," said Elliott Palmer, Habitat homeowner and speaker at the event. "But today, thanks to Habitat, those two [addresses] match. Instead of focusing on survival, I'm able to focus on living. Lost dreams have become a reality."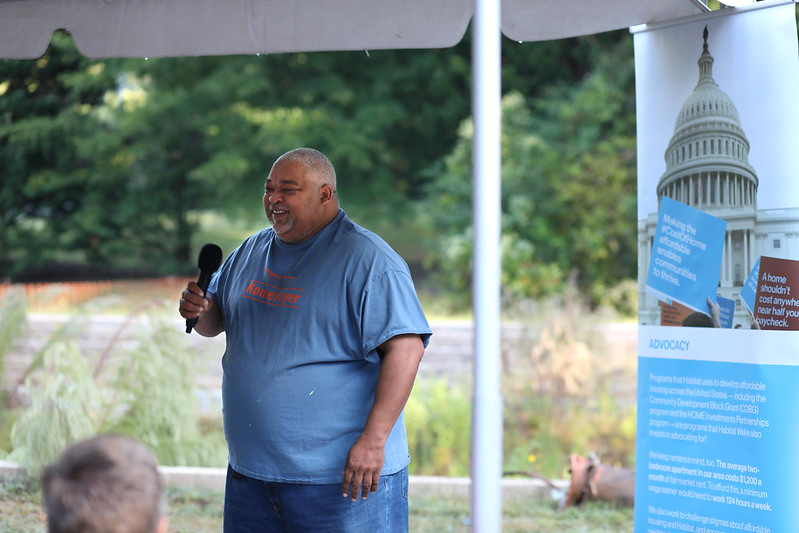 It has never been more important that our policymakers understand the tremendous need for safe, affordable housing in our area. In Wake and Johnston counties, 1 in 4 families lack affordable housing. To afford fair market rent, residents must make $23 an hour or $48,000 a year. Yet the average childcare worker, preschool teacher, bank teller, medical assistant and social worker make less than this. To have a healthy, vibrant community we need housing options for everyone.
 
COVID-19 has exacerbated the problem.  There are currently over 28,000 families behind on their rent, with an estimated debt of $2,400 to $3,600 per household. These residents are now forced to come up with a year's worth of delayed rental payments or face eviction, displacement and long-term damage to their credit.
"We have to support our families. Having a safe, clean home, in a good neighborhood is really the foundation," said U.S. Congresswoman Deborah Ross, one of the participants of the event. "I'm supporting more funding for affordable housing through the President's Build Back Better plan and through the budget process."
We hope that by participating in the event, and building alongside Habitat homebuyers, inspires policymakers to re-commit to affordable housing through their policy agendas.
 
Thank you to all the policymakers who participated:  
U.S. Representative Deborah Ross  
NC Senator Jay Chaudhuri  
NC Representative Gale Adcock  
NC Representative Joe John  
Wake County Commissioner Maria Cervania  
Wake County Commissioner Shinica Thomas  
Apex Mayor Jacques Gilbert  
Apex Mayor Pro Tem Nicole Dozier  
Apex Council Member Brett Gantt  
Cary Council Member Lori Bush  
Morrisville Mayor TJ Cawley  
Morrisville Council Member Donna Fender  
Knightdale Mayor Jessica Day
Rodney Dickerson, Garner Town Manager
Danna Widmar, Cary Assistant Town Manager
Morgan Mansa, Cary Intergovernmental Affairs Liaison 
Kimberly Moore, Civic Engagement Director for U.S. Rep. Deborah Ross
Devonte Wilson, Field Representative for U.S. Rep. Deborah Ross
To view media coverage of the Elected Officials Build, see the ABC11 and CBS17 articles here. To see more photos from the event, see our Flickr page.