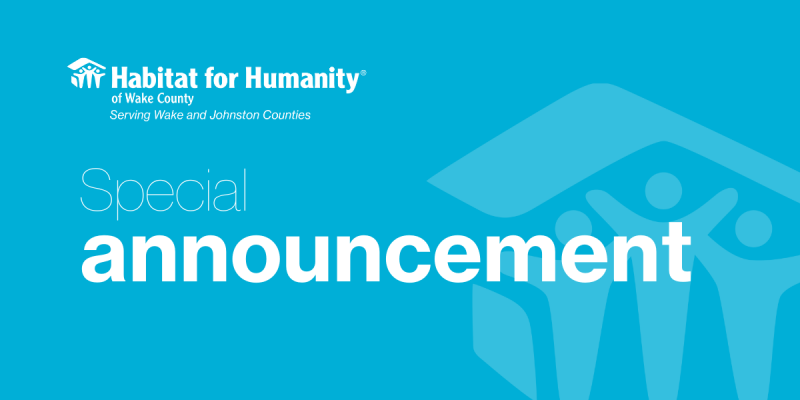 We are pleased to announce four new members of our Board of Directors. We are confident that the expertise and connections these individuals bring will bolster our plans for the new fiscal year '22.   
Bob Kucab, retired, North Carolina Housing Finance Agency  
Bob is currently the chair of our Advocacy Committee and has been a strong supporter of Habitat Wake. He led the North Carolina Housing Finance Agency, a tremendous partner of Habitat's, from 1987-2017 – nearly the entire existence of Habitat Wake! Our team is humbled and grateful to have his affordable housing expertise and passion for our mission represented on the Board.  
Marty Pell, Coastal Credit Union 
Coastal Credit Union has a long history of partnering with Habitat Wake (they were our first community lending partners back in 2016). Marty's direct experience with our third-party lending program, as well as his knowledge of the lending landscape in general, will be a valuable asset to our board.  
Whitney von Haam, Wake County Bar Association 
Whitney has been involved with Habitat Wake at the committee level in the past. In addition to her work at the Wake County Bar Association, she has extensive experience working with other area nonprofits in a volunteer capacity, including SAFEchild, Junior League of Raleigh and Girl Scouts of NC Coastal Pines. 
Allen Wellons, Wilkin & Wellons 
Allen is a lawyer in Johnston county who originally founded the Habitat for Humanity of Johnston County affiliate that we merged with in 2018. This additional Johnston County representation on our board is vital as we continue to build homes and partner with homeowners in the county!
You can view our full list of board members here.