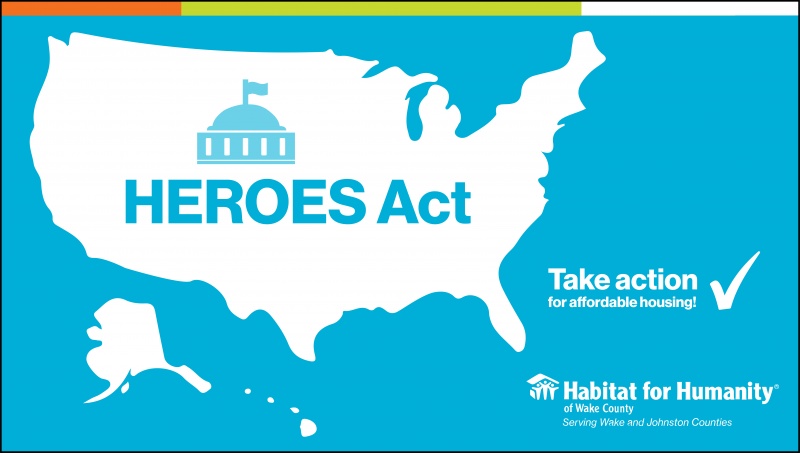 UPDATED Wednesday, May 20, 2020
The COVID-19 pandemic has created a time of uncertainty for us all, and the housing market is certainly not immune. Even prior to the pandemic outbreak, Wake and Johnston county families were spending too much of their income on housing. The lost wages and increased expenses associated with the virus will only exacerbate housing instability, especially for our most vulnerable populations. 
While we may not know exactly what the future holds, here's some of what we know thus far: over 23 million Americans are out of work and North Carolina ranked at only a 0.63 out of 5 for its COVID-19 housing response, according to the Eviction Lab. The short-term effects will likely carry into the longer-term, creating a bleak future for the housing market.
The future of homeownership in particular may be in jeopardy due to COVID-19 impacts. While it is still too early to examine the full ramifications, the potential for defaulting on mortgage payments could create a domino effect to collapse our economy. For prospective homeowners, the economic strain from the virus could exacerbate the barriers to homeownership due to lowered credit scores from missing rent payments, dipping into their down-payment savings, and other accrued debts. 
While these factors are lining up for a grim future, there is good news, too: important steps have been taken by various levels of government to address housing stability and affordability amidst the virus. Congress is working on its next stimulus package, Wake County created the House Wake! Strategic Plan to minimize the effects of COVID-19 on homeless or housing insecure residents, and Raleigh is still pursuing an affordable housing bond to be on the ballot this November. 
This virus is ongoing, but so is our community response. It is crucial that we all continue advocating to ensure that housing needs are being addressed during this pandemic and beyond.  
Want to make your voice heard? Call on Congress to support our urgent housing needs by passing the HEROES act with this email template. 
Please contact Habitat Wake's Advocacy Coordinator with any questions or comments at holly.gallagher@habitatwake.org.