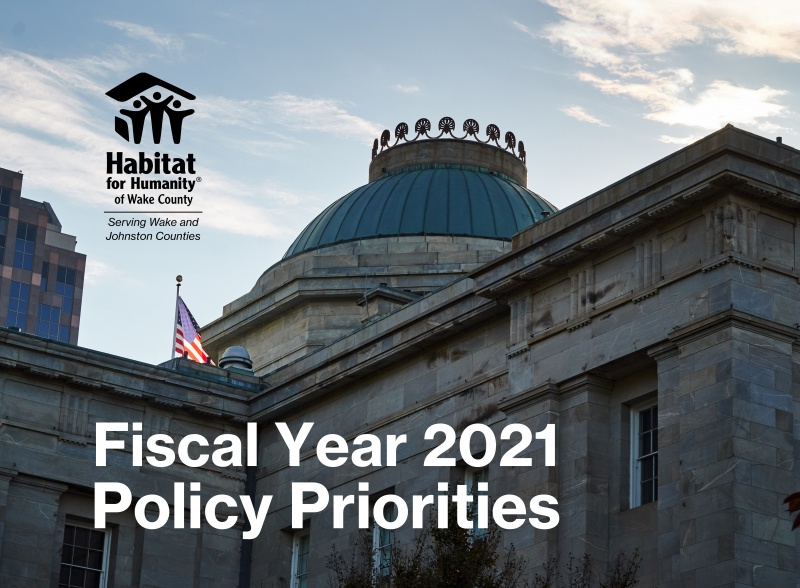 Everyone deserves the personal and economic stability of a safe, affordable home.
For a home to be affordable, housing expenses must be less than 30 percent of a family's income. In Wake and Johnston counties, one in four families spends too much of their income on housing, leaving little left over for other necessities like food, transportation, education and healthcare.
As the economic impacts of COVID-19 continue to unfold, the number of families struggling to make ends meet will only grow, creating an even more urgent need for better housing solutions.
We must also acknowledge that historic discrimination in U.S. housing policy has been a driver of inequalities that persist today. We have a responsibility to raise awareness about the continuing effects of these policies and advocate for opportunities that increase affordable housing for all. 
This year, we're advocating for:
Passage of Raleigh's Affordable Housing Bond
Raleigh voters will consider an $80 million bond for affordable housing in November. If passed, the bond will help fund critically-needed housing opportunities for residents with limited incomes. Bond funds will be used to purchase land near public transportation, make critical repairs for existing homeowners, assist first-time homebuyers with down payments, support nonprofit housing organizations, and expand the number of affordable rental homes. 
Housing relief for families financially impacted by COVID-19 through rental, mortgage and utility assistance
Eviction and foreclosure moratoriums are critical for stabilizing households during the pandemic. It's also critical to help families get current on payments after moratoriums end. Recovery tools include foreclosure prevention assistance for homeowners, emergency financial assistance for renters, and extended repayment options.
Bus routes aligned with affordable housing and increased access to transportation options for Habitat homeowners 
Housing and transportation costs make up half of the average household's budget. Access to public transit results in greater economic opportunities for residents and can reduce transportation costs and commuting time, which are often substantial.
Property tax solutions for homeowners to gain long term affordability
Property taxes are important in ensuring our community has the services and infrastructure for quality of life. We also want to ensure homeowners can afford to stay in their homes long-term, especially in gentrifying neighborhoods. Providing tax assistance can help ensure residents are not priced out.
Development practices that increase housing options for households that earn less than 80% of median income
Development practices, including land use policies, impact the location and type of housing in our community. As our area grows, it's important to adjust zoning codes to allow for a variety of housing options, such as townhomes, duplexes and cottage courts.
Gaining permits and approvals for home construction can be lengthy, impacting a project's schedule and costs. Expediting this process for affordable housing projects can reduce costs and encourage the development of more affordable units.
In addition to these policies, we support the advocacy of Habitat for Humanity International and Habitat North Carolina to increase affordable housing at the state and national level. 
We encourage inclusive neighborhoods by working to challenge stigmas about affordable housing and Habitat.