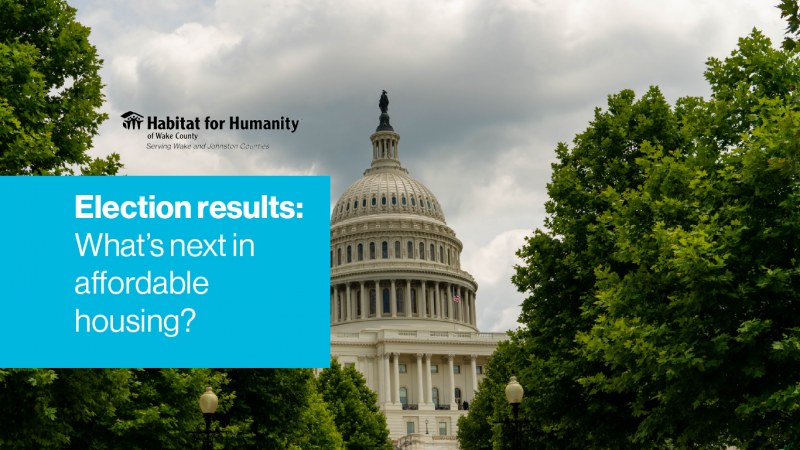 After months of anticipation, the 2020 election has come to a close. We are excited to report that North Carolinians made their voices heard at the ballot box, with a voter turnout rate of 75.3 percent, an increase of over six percent from 2016! 
Why do election results matter?
Elected officials at all levels of government influence affordable housing. Ongoing decisions, like state or federal appropriations for affordable housing programs may be changed by our updated legislatures. The choices made by our lawmakers have a significant impact on us and our community. 
COVID-19 is at the forefront of many advocates' minds, and understandably so. The rising cases put a strain on the economy, housing stability, and overall well-being of our communities. Our newly elected lawmakers have the ability to prioritize COVID-19 relief as they return to or enter office in January, through local and state rental, mortgage, and utility assistance and a robust federal relief package. Habitat Wake will continue to engage our network and advocate for this much-needed relief in the coming months. 
Federal elections
The Presidential race gathered the majority of attention from voters across the country as we eagerly waited for electoral votes to come in. Here are some highlights:
Former Vice President Joe Biden and Senator Kamala Harris reached the required 270 votes and will take the highest office in January.  
A Biden Administration means a changed federal affordable housing platform.
We also anticipate a new Housing and Urban Development (HUD) Secretary to advise the President and make decisions on housing policies and funding.
The 2020 election also impacted Congress, with some notable changes in North Carolina's Congressional Delegation:
In the House of Representatives, Democrats picked up two seats but the Republicans held the majority. This means that the NC House Delegation will be split with 5 Democratic seats and 8 Republican seats entering 2021.
Senator Thom Tillis won reelection, meaning Republicans will continue to hold both NC Senate seats.
Advocacy for HUD program funding has received bipartisan support, and is expected to increase slightly in 2021.
COVID-19 housing relief is a top priority, so we are optimistic about a Federal relief package, including the passage of the WORK NOW Act and creation of a Housing Assistance Fund.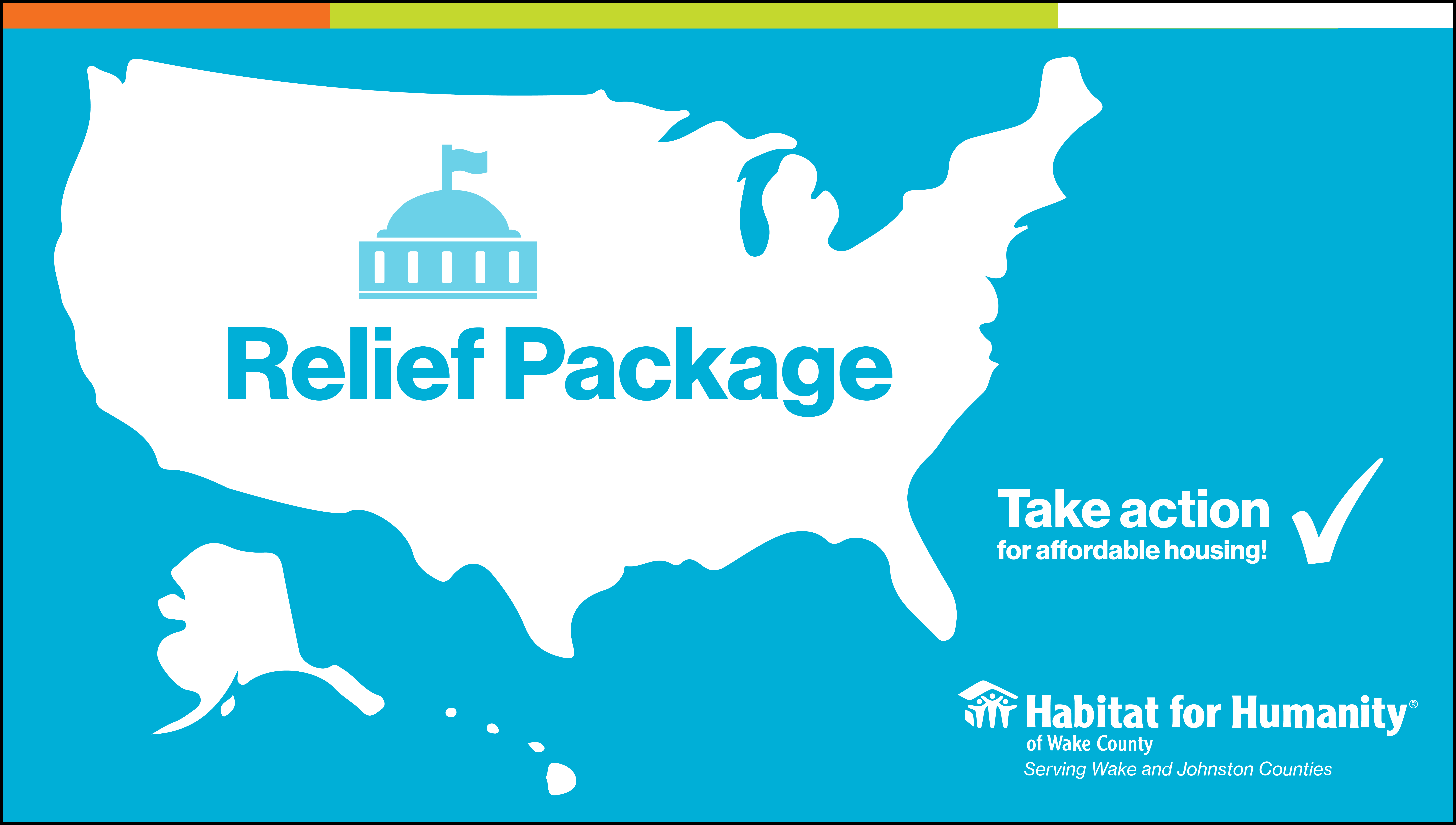 State elections 
Major races were voted on across the state, including the Governor's office. The Governor serves as the leader of our state and has a great impact on issues like housing affordability. 
Democratic Governor Roy Cooper won reelection.
The Governor will make key decisions on statewide COVID-19 responses, including phase guidelines and mask-wearing mandates.
The nationwide halt on evictions is scheduled to expire in January, meaning Governor Cooper will likely have to decide whether or not to extend an eviction moratorium across North Carolina, along with other moratorium opportunities for mortgage and utility payments
All 170 seats in the NC legislature were up for election. Here is the outcome and potential impact on the North Carolina General Assembly:
Republicans will maintain their majority in the state Senate, with 28 seats won compared to Democrats 22.
Republicans will also hold the majority in the state House and were able to flip four seats. Entering 2021, there will be 69 Republican representatives and 51 Democratic representatives.
The NCGA has the power to increase funding to the NC Housing Trust Fund, implement statewide property tax solutions, and establish COVID-19 housing assistance through rental, mortgage, and utility assistance.
Local Elections
County Commissioners in both Wake and Johnston counties were voted on this year to make county-wide decisions:
All seven elected Wake County Commissioners are Democrats. Two of the commissioners are newly elected and five are returning.
Four Johnston County Commissioner seats were up for election and were all won by Republican candidates, including two incumbents.
County Commissioners have the opportunity to impact affordable housing on a local level through a variety methods, including land use and development policies, down payment assistance programs, and COVID-19 relief.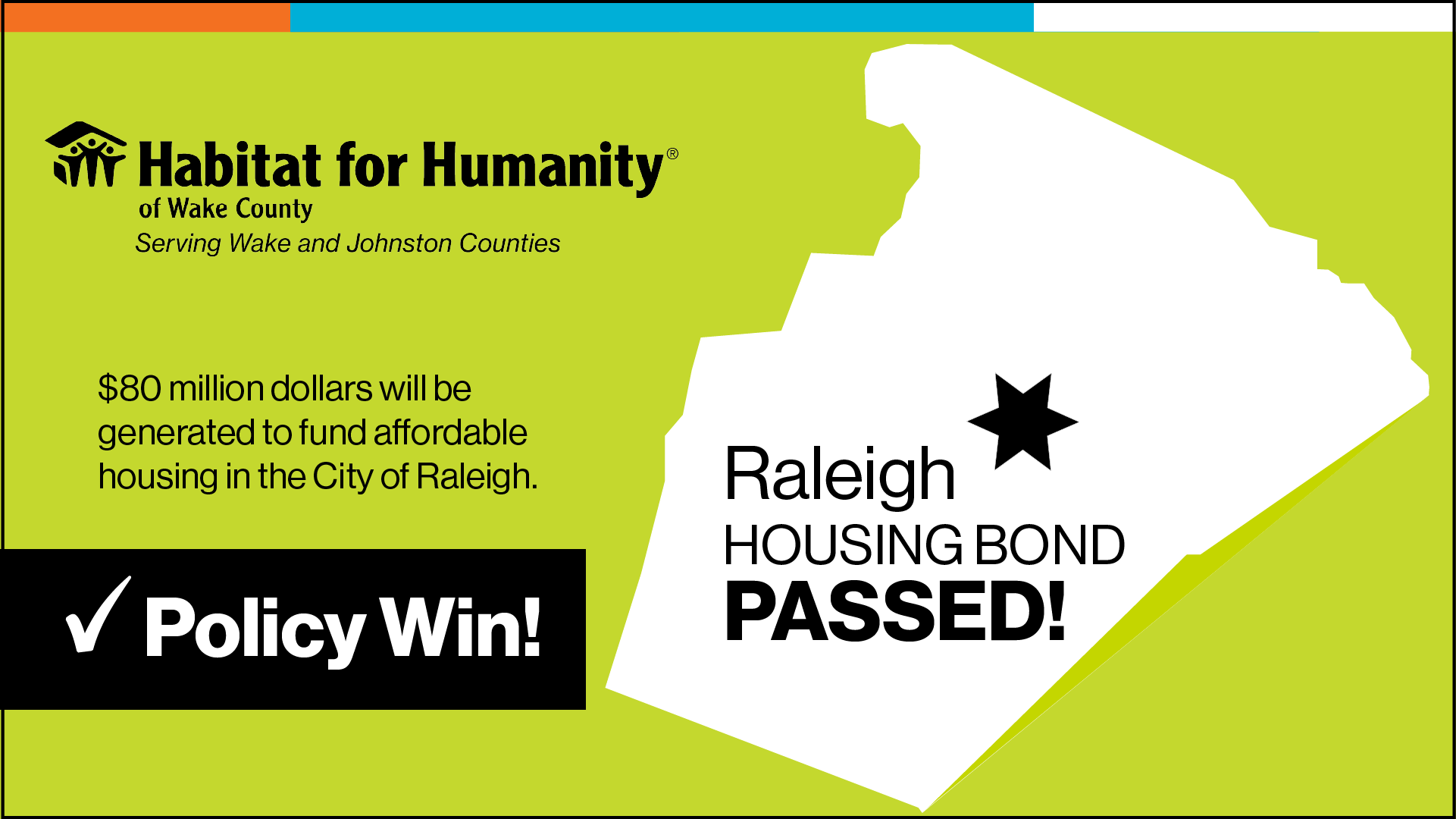 Raleigh residents passed the Affordable Housing Bond, which will generate $80 million to create housing opportunities in the City of Raleigh by purchasing land for affordable housing near public transportation, making critical repairs for existing homeowners, assisting first-time homebuyers with down payments, expanding the number of affordable rental homes, and supporting nonprofit housing organizations.
Thank you for using your voting power at the polls; the outcome of these elections would not be the same without your vote! Habitat Wake looks forward to continuing our advocacy and hope you will join us in our mission to build communities where everyone has a safe, affordable place to call home.