A group of Habitat Wake volunteers, staff and supporters are building in Honduras this week as part of Habitat Wake's Global Building partnership. Each day, a member of the team will blog about their experience. Here is their blog from Day 1, written by Megha who is a sophomore at NCSU. Check back daily to follow their trip!
---
It's only day one of our trip, and I'm already loving everyone and everything! Honduras is so incredibly breathtaking, even just on the drive. I know that this week is going to be really fun, but it will also be a great learning experience for everyone! The team is full of very different people, but we all get along great!
We started the day with breakfast at the hotel, which consisted of chicken, beans, and pancakes. It was sooo yummy! Then Luis gave us an orientation for the trip. We learned the "do's" and "don'ts" for the week.  After gathering all of our stuff, we were off to the city of Gracias, Lempira!
Max gave us a wonderful tour of the city. He took us through the marketplace, church, and streets. Everywhere we went he had cool stories or interesting facts to tell us! We learned about the different foods sold in the market and about some background of the religion. We were even treated to some fruit popsicles after walking. We then had lunch at an artist's house. For lunch, we had traditional fish along with a small salad, potatoes and rice.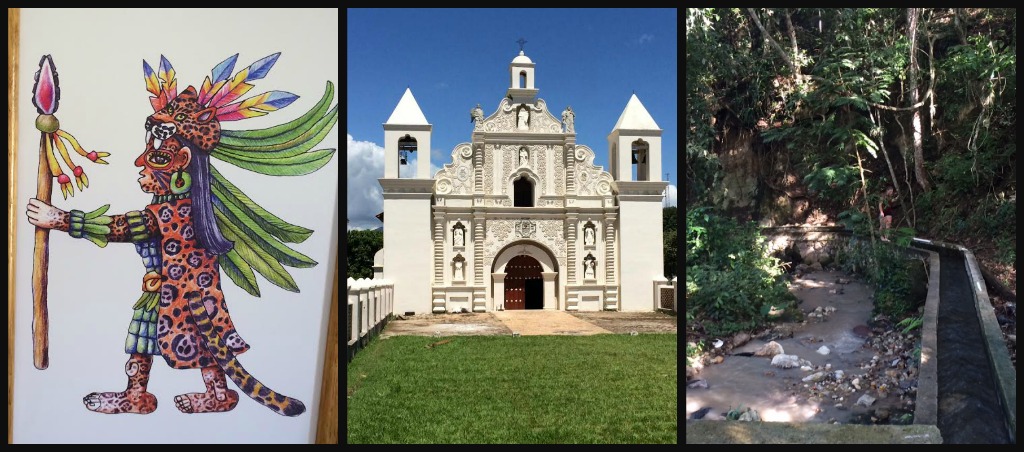 After lunch, we headed to the hot springs! It was not very crowded, and the water was nice and warm. They had a special mud that we could put on our faces like a mud mask, so all the ladies did that. My face definitely feels better now! The area and scenery around the hot springs was very beautiful, too. After we changed, we headed back to the hotel to end the day.
Before dinner, we had our first daily reflection, and it was a success! In the circle we all talked about what we expected before coming to the trip. In general, people were very interested by the culture and lifestyle of the people! But we are all also so excited to start helping out this week and seeing how much of a difference we can make. Overall, the first day was amazing and makes me excited for the rest of the week. I am very excited to learn more about the culture, as well as give my hand in helping out! Cannot wait until tomorrow!!
PS- For dinner we had pizza from a restaurant around the corner from the hotel, and it was delicious!