Habitat for Humanity of Wake County launched our inaugural Veterans Build this week with a home preservation project in Willow Springs. The project includes fencing in the yard of a local veteran so he can provide a safe space for a service dog.
MetLife Foundation awarded a grant to Habitat Wake for the project and MetLife employees will serve as volunteers. On Thursday, volunteers and corporate sponsors gathered for a check presentation and remarks before commencing the fencing project. 
Comerica Bank also joins as a Partner Sponsor, building on Habitat Wake's Maybrook Townhomes to raise awareness for affordable housing solutions for veterans. 
"We are excited to launch this new project and highlight the additional barriers the veteran community faces in accessing housing," said Patricia Burch, Habitat Wake CEO. "We are grateful to our partners for supporting the project and helping us bring more awareness to the affordable housing crisis."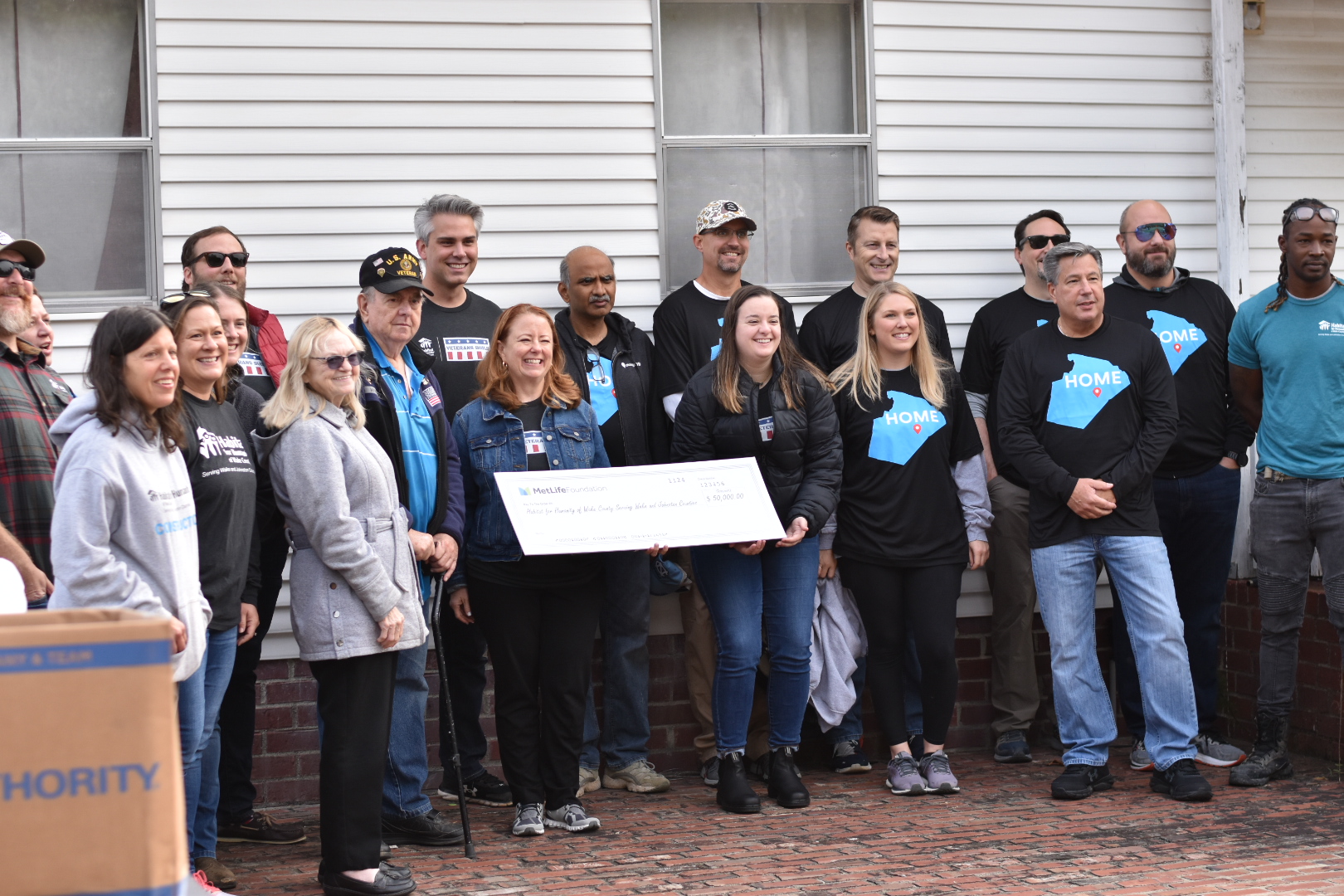 According to the National Low Income Housing Coalition, 24 percent of veterans over the age of 55 are cost burdened, meaning they pay too much of their income toward housing at the expense of other necessities such as groceries, healthcare and education. Older veterans are also more likely to have a disability, which may require home modifications, health and other supportive services as they age. 
"MetLife and MetLife Foundation are honored to support the veteran community as part of the inaugural Veterans Build," said Tia Hodges, president and CEO of MetLife Foundation and head of Corporate Giving and Employee Volunteerism at MetLife. "We are proud to expand our long partnership with Habitat Wake and to help address the housing needs of veterans, as we recognize the significant contributions veterans have made to our country." 
Veterans Build is one of several Community Social Responsibility (CSR) projects aimed at providing opportunities for Habitat Wake and the Wake and Johnston County communities to intentionally invest in those who have historically experienced challenges in accessing and maintaining affordable housing. These CSR projects take place throughout the year and include Women Build, Pride Build, Beloved Build and others.   
These projects highlight the need for housing at a critical time: Wake County faces a shortage of nearly 60,000 housing units affordable to families with low to moderate incomes. One in four local families is cost-burdened, and 28,000 families are behind on their rent due to the long-term impact of Covid-19 and our booming housing market.