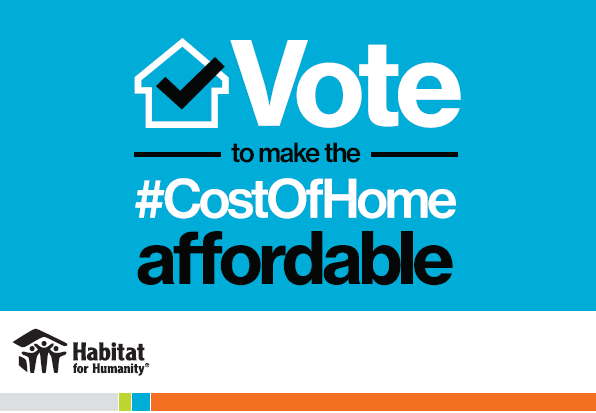 Elections give you the power to set priorities on the issues most important to you for years to come. With 1 in 4 families in Wake and Johnston counties spending too much of their income on housing and COVID-19 putting a strain on renters, homeowners, and people experiencing homelessness across the country, housing is an issue that needs attention.
Elected officials serve as our connection to government, so the candidates you vote for matter. When casting your ballot this November, know that your vote will be shaping the future of affordable housing in our community. 
Take a deeper look into how housing policies are related to the election below!
Raleigh's affordable housing bond
Raleigh residents will see an affordable housing bond on their ballot. If passed, this $80 million bond will increase affordable housing options for low- to moderate-income Raleigh residents through purchasing land near public transit, tax credit programs, and public-private partnerships. You can help support Raleigh's investment in housing affordability by voting YES on the bond!
Other housing policies on the table
Even if you aren't a Raleigh resident, there are plenty of housing policies that your vote can influence. Whether it be at the local, state, or federal level, housing affordability will be impacted by your vote. 
Let's start local. This election cycle, many of us will be voting for County Commissioners. These representatives make decisions about:
Creating access to affordable housing for renters, homeowners, and people experiencing homelessness
Helping families remain in their homes long term
Assisting with land purchases and development costs for affordable housing
All 170 seats in our state government, the NC General Assembly, are up for election! The legislature  makes decisions on:
Funding the NC Housing Trust Fund, which creates solutions around homeownership, rental, supportive housing, new construction, rehabilitation, and emergency repairs
Statewide rental, mortgage, and utility assistance programs
Lawmakers in D.C. have a great influence on our housing affordability too. Congress influences:
Nationwide COVID-19 housing relief
Federal appropriations for housing programs that support nonprofit organizations like Habitat for Humanity
A variety of legislation that could increase access to affordable housing
The Administration's decisions are extremely influential. One decision that the next President will have is the nomination of the Housing and Urban Development (HUD) Secretary. HUD works to:
Ensure nationwide equity in access to affordable housing
Administer housing programs to help communities with economic development and housing
Provide rental, mortgage, and homelessness assistance 
Your vote has significant influence. Register to vote to help shape the future of housing affordability in your community!