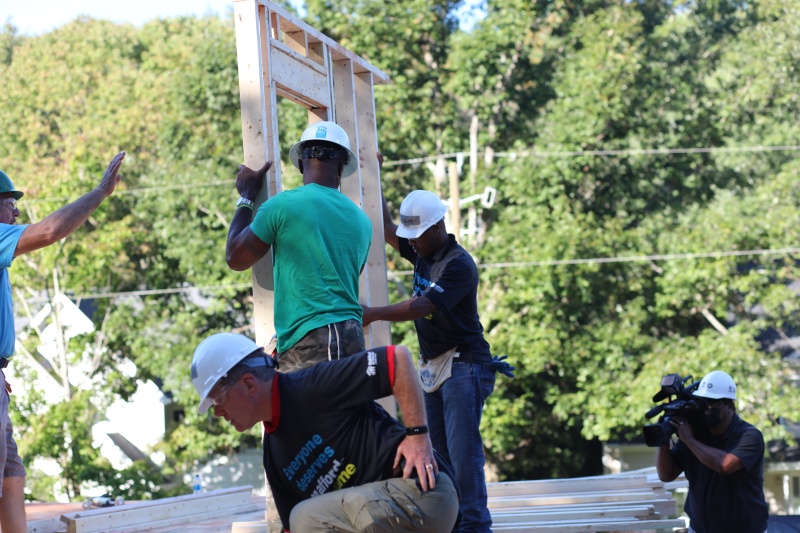 Update: you can find related news coverage of this event on ABC11 and CBS17: 
Rep. Deborah Ross among NC elected officials helping build Habitat for Humanity homes in Cary, ABC11
Wake County elected officials help Habitat for Humanity build affordable housing, CBS17
--
Local elected officials will gather this Friday to build an affordable Habitat home 
RALEIGH, NC (Oct. 13, 2021) – This Friday, local elected officials from Wake County will pick up hammers and work together on an affordable Habitat home.  
The build will give policymakers the opportunity to see first-hand the need for housing and re-commit to prioritizing housing affordability on their agendas. Policy change is the best way to address the affordable housing crisis at the systemic level, and elected officials must take bold steps to expand affordable housing in Wake. In addition to serving families through affordable homeownership, Habitat Wake advocates for better access to affordable housing for everyone in our community.   
Habitat Wake Elected Officials Build 
Friday, October 15 
7:45 - 11:30 am 
121 Trimble Avenue, Cary 
One in four local families in Wake and Johnston counties is cost-burdened, meaning they pay too much of their income toward housing at the expense of other necessities such as groceries, healthcare and education. To afford to rent a modest 2-bedroom apartment in our area, a family would need to earn $48,000 a year or $23 per hour. COVID-19 and skyrocketing housing costs in our area have exacerbated this problem, putting thousands at risk of eviction and displacement. 
"Our elected officials are critical to expanding and protecting affordable housing," said Bill Ahern, Habitat Wake President/CEO. "We hope that by building with us, they will better understand all the ways in which housing intersects with other issues and commit to doing more for affordable housing in our community."  
Habitat Wake's vision is a world where everyone has an affordable place to live. Through our advocacy work, we seek to create long-term, systemic change. This year, Habitat Wake is prioritizing housing relief for families impacted by COVID-19, property tax relief for homeowners, bus routes that are aligned with affordable housing and development practices that increase housing options affordable price points. 
Habitat Wake is a nonpartisan organization that advocates for housing issues, but we do not endorse candidates for office or provide a platform for campaigning.  
Build participants include:  
U.S. Representative Deborah Ross 
NC Senator Jay Chaudhuri 
NC Representative Gale Adcock 
NC Representative Joe John 
Wake County Commissioner Maria Cervania 
Wake County Commissioner Shinica Thomas 
Apex Mayor Jacques Gilbert 
Apex Mayor Pro Tem Nicole Dozier 
Apex Council Member Brett Gantt 
Cary Council Member Lori Bush 
Morrisville Mayor TJ Cawley 
Morrisville Council Member Anne Robotti 
Morrisville Council Member Donna Fender 
Garner Town Manager Rodney Dickerson 
Raleigh Council Member Stormie Forte 
Wake Forest Commissioner James Dyer 
###  
About Habitat Wake   
Seeking to put God's love into action, Habitat for Humanity of Wake County brings people together to build homes, communities, and hope. Since 1985, Habitat Wake has joined with sponsors, volunteers and families to build more than 800 safe, affordable homes in our community. Qualified homebuyers pay an affordable mortgage and invest 200 hours of sweat equity building their home.   
This year, Habitat Wake is building 40 new homes locally and completing exterior repairs on 40 homes. Financial support is provided by corporate, foundation, faith and individual sponsors, as well as by the Habitat for Humanity ReStores. Habitat Wake is a nonprofit, ecumenical Christian housing organization that welcomes people of all races, religions and nationalities to partner in its mission.  To learn more, visit habitatwake.org.