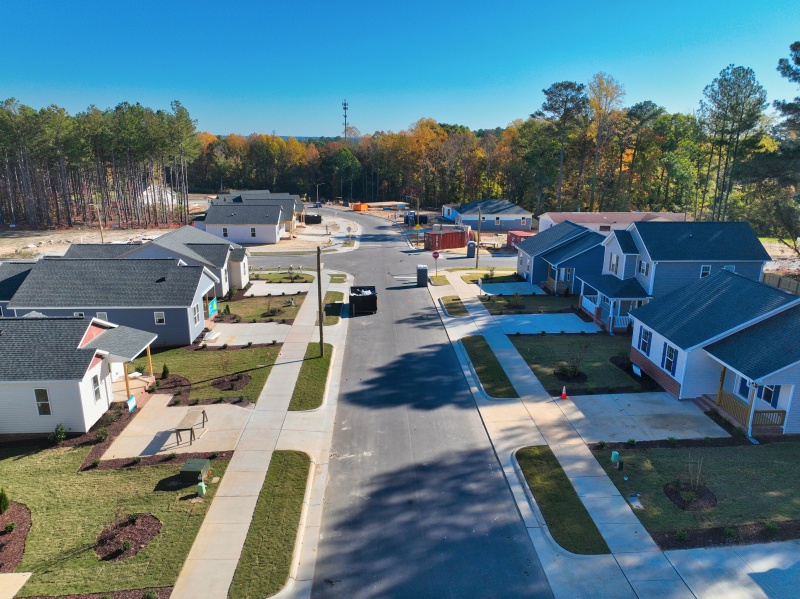 Habitat Wake's vision for the Old Poole Place community goes beyond just constructing houses. It's about creating a thriving neighborhood where individuals and families can build a stable and secure future. Located in Southeast Raleigh, this community represents a significant milestone in Habitat Wake's ongoing efforts to provide affordable housing solutions.
We believe in the power of community involvement. Volunteers, donors and community partners have been instrumental in the success of Old Poole Place. Through collaboration and collective efforts, we are helping to transform this neighborhood into a place where people can live, work and play.
Progress so far:
Since its inception, the Old Poole Place project has made significant strides.
This property, acquired by Habitat Wake in early 2018, spans 23 acres and hosts 105 lots to be filled with 60 single-family homes and 45 townhomes. When we officially kicked off building in March of this year, the property was essentially a dirt pit. But with the help of our many dedicated volunteers, the transformation is nearly unrecognizable.
We've hosted numerous builds at Old Poole Place over the last nine months, including our 2023 Women Build, Pride Build and Veterans Build.
In October, we participated in the Triangle Parade of Homes. Over the course of three weekends, we opened up an Old Poole Place Habitat home to the public to show what our homes can look like. The home that we showcased was honored with. the silver award! This win underscored that Habitat Wake homes are beautiful, well-built and sustainable.
As of now, almost 30 of those homes have been completed, and six homes have officially been dedicated! Families began moving into their homes in September, with more moving in just in time for the holidays.
The positive impact on the lives of these families cannot be overstated. They now have a stable and safe place to call their own.
Looking Ahead:
Habitat Wake's journey at Old Poole Place is far from over. The organization has ambitious plans to complete additional homes, develop green spaces, and foster a strong sense of community. The ultimate goal is to create a neighborhood that exemplifies the values of inclusivity, unity, and resilience.
Our Old Poole Place community serves as an example of what's possible when a community comes together to make a positive change. By providing affordable housing, fostering community engagement, and prioritizing sustainability, we hope to create a brighter future for countless individuals and families. As we continue to work toward our mission of building homes, communities and hope, we can all play a part in making that goal a reality.