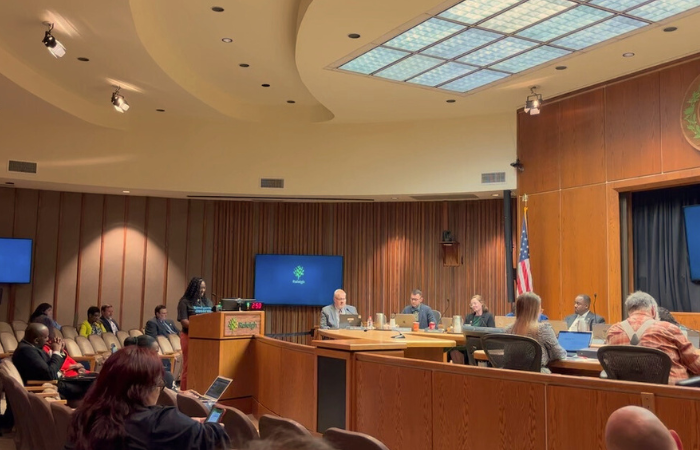 Local budgets across Wake County and Johnston County have now been officially approved for the 2024 Fiscal Year. And thanks to Habitat Wake's Advocacy Ambassadors and hundreds of community members advocating for affordable housing funding, local decision makers made significant investments in our community. Advocates wrote comments, spoke at the budget hearings, and attended the hearings decked out in their Habitat t-shirts.
Advocating for Affordable Housing Funding in Wake County
The Wake County budget hearing was on May 15 and many advocates came out in support. Several Advocacy Ambassadors made powerful comments at the meeting, speaking to how important access to affordable housing is and how critical the need is to create more housing. Many more Ambassadors sent in email comments encouraging the Commissioners to allocate more funding for affordable housing.
Our asks for the Wake County Board of Commissioners included:
More funding to create affordable housing stock of for-sale homes
Increased funding for homeownership with the Affordable Housing Development Program by $1.6 million
The budget also included two major wins for affordable housing:
A $1.3 million investment in a new Major Repair program, which would assist income-eligible households with major system repairs for up to $90,000
An increase of $1.4 million to the Crisis Intervention Program, which provides emergency heating and cooling assistance to income-eligible households
If you would like to reach out to the Wake County Commissioners to thank them for including funding for these programs, you can find their contact information here.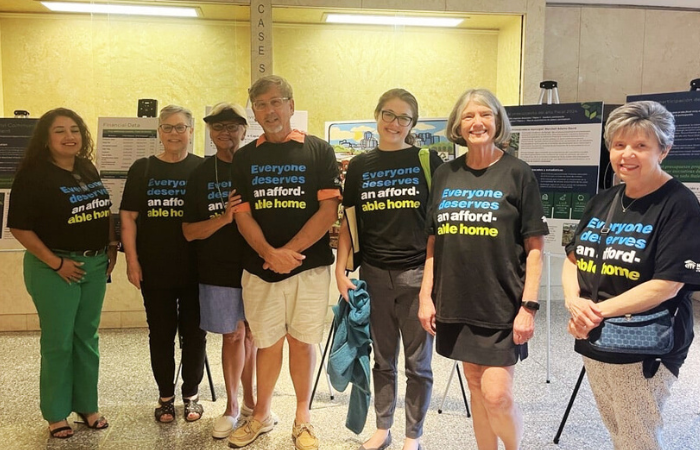 Advocating for Affordable Housing Funding in Raleigh
The Raleigh budget city council hearing took place on June 6th and 20 of our advocates joined in person. At this hearing, Habitat homeowner Cynthia Vinston and Habitat homebuyer LaToria Benton made passionate speeches that touched on how vital affordable housing is to individuals and families. Cynthia Vinston shared her own experience: "my neighbors that my children and I grew up with for 19 years are losing their homes, because taxes have risen so much it's not fair. I am asking you, begging you, to have a heart. We need affordable housing." She also spoke about how housing not only influences families in the present day, but also their future legacy. LaToria Benton summed up the scope of the problem succinctly, "if we don't have housing, we don't have stability."
Our asks for the Raleigh city budget included:
To increase local funding dedicated to affordable housing, especially to produce new affordable housing and to serve homeowners below 80% AMI with housing cost relief programs
Other towns in Wake County are also taking action on affordable housing:
In Wake Forest, the Board of Commissioners included $50,000 to continue to assist with renovations and rehabilitation of homes in their northeast community.
Wake Forest also dedicated half a cent of the tax rate (.05 cents) for affordable housing, $200,000 of which will be used to establish an affordable housing fund.
The Cary budget includes a $9 million for housing initiatives, $5 million of which is from one-time ARPA funding. Some of this funding includes $2.3 million to implement Cary Housing Plan Initiatives, $1.0 million for non-profit capacity building support, $500,000 for Healthy Homes Cary, the housing repair program
How do I become a Habitat Wake Advocacy Ambassador?
Budgets say a lot about what communities want to prioritize and support. Habitat Wake Advocacy Ambassadors used their voices and dedicated their time towards showing just how critical affordable housing is. By writing comments, attending hearings, and sharing their stories they were able to influence the budget process and advocate for safe and affordable housing for all. You can get involved and help create policy change in our community by signing up to become an Advocacy Ambassador!
Topics:
Topics