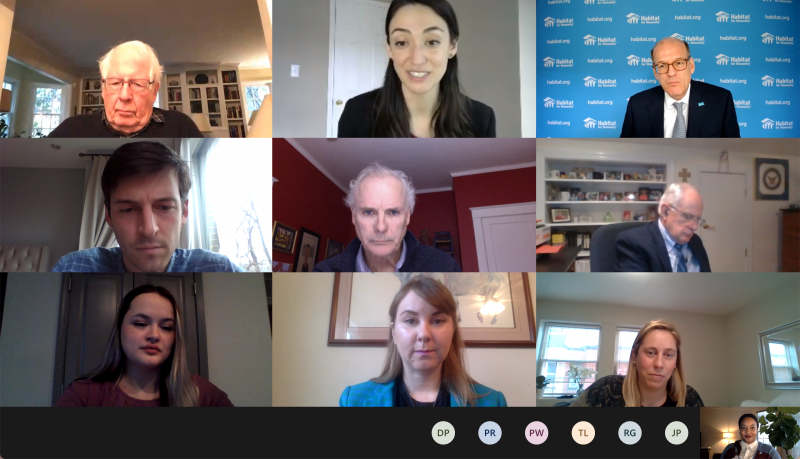 (Pictured above is long-time congressional affordable housing leader and North Carolina congressman, Rep. David Price with advocates from Habitat for Humanity International and Habitat Wake.)
By Holly Gallagher
This month, over 700 members of the Habitat network from around the country joined together to advocate for home, from home. Habitat on the Hill, our annual legislative conference, provides an opportunity for us to learn more about housing affordability and raise our voices for affordable housing policy by meeting with our members of Congress. These are some of our key takeaways from this year's virtual conference:
1. Advocacy is more accessible than you might think.
Despite being virtual, this year's conference had a record-high number of participants. Participants engaged in webinars, networked with colleagues, and met with members of Congress. Habitat Wake's network engaged from home by calling, emailing, and tweeting at their members of Congress in support of affordable housing. Advocacy from home is accessible, effective, and easy to do! Learn more about advocacy at Habitat Wake by visiting our webpage.
2. COVID-19 relief is critical.
One of our key legislative asks of Congress was to provide mortgage assistance to families that have been impacted by COVID-19. Due to the pandemic, families across the nation have been unable to pay their mortgage, or are depleting their savings to make their payments. Targeted mortgage assistance has not been included in any federal relief packages thus far, but $10 billion in assistance may be included in the upcoming bill.
3. Fair Housing and Lending laws are not always enforced.
One of the conference sessions, entitled "Federal Policy Opportunities to Advance Racial Equity" explored solutions for reducing racial disparities in housing and addressing the long history of discrimination in housing. One key learning from this session is that racial discrimination in housing remains a large issue, despite the passage of the Fair Housing Act in 1968. In fact, there are more than 4 million instances of housing discrimination that occur each year. It is critical that Fair Housing and Lending laws are consistently enforced across the country.
4. Credit scoring systems are not color-blind.
Another key learning from the "Federal Policy Opportunities to Advance Racial Equity" session is that there are clear discriminatory outcomes in credit scoring systems, as people of color are more likely to live in credit deserts. This is not an issue of household incomes; banks are closing more of their branches in majority-black communities, including high-income ones, than in all other communities.
5. Affordable housing policy has bipartisan support.
Habitat Wake is proud to be a nonpartisan organization that works to achieve housing affordability regardless of political parties. During this conference, we were surrounded by a politically diverse group of lawmakers, highlighting the support for affordable housing across party lines. The Neighborhood Homes Investment Act, which we are encouraging Congress to support, already has strong bipartisan support and we hope to see its passage in this legislative session!
6. Federal funding is critical to Habitat's mission.
The federal government funds a variety of programs that support Habitat's work and affordable housing in general. Habitat Wake uses these funds to purchase land for new homes, provide second loan mortgages to ensure home affordability, construct homes for families in need of affordable housing, and revitalize the neighborhoods that we build in. For a recap on our specific funding asks, read our recent blog post.
7. You don't need to be an expert.
The majority of conference attendees were not advocacy or housing policy experts. Rather, we were a group of affiliate employees, board members, homeowners, and community members with a common goal: to achieve housing affordability for all. But, if you are looking to learn more about affordable housing and advocacy, check out these resources from Habitat for Humanity International!