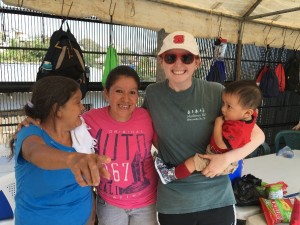 Everyone deserves a safe place to live. Housing inequality is a large problem all around the world. In Honduras, the large wealth gap was apparent in housing. It was great to see everyone help build a home for Sonia and her family in Honduras. When we arrived, the preparation for building had just started. We had to dig out the ground, move A LOT of dirt and rocks, tie the rebar, and everything in between. Coming from a place with no construction experience, I was surprised at my own ability to work. Anybody can help build a home!
Habitat for Humanity provides a unique experience for the homeowner, community, construction workers, and volunteers to all come together to help build a home. They say it takes a village to raise a child, the same saying goes towards building a house!
My family in Raleigh bought a Habitat Wake home when I was one year old. Some people can have misconceptions on the type of people who live in Habitat homes. Anyone can get a bad break in life and it's okay to ask for help. Both of my parents have a college education and are the hardest workers I know. Nobody wants to struggle, and when you are in these situations, it is so uplifting to see groups like Habitat willing to help out just for the sake of helping out. I am proud to say that since buying our Habitat Wake home, my dad works for the government, my mom went back to college and is now an incredible teacher, and my brothers and I all have gone to college (one of my brothers even works for Habitat in Durham!). Since I was young when we got our home, I don't remember much of anything about it. Working in Honduras and now being on the other side of it, I have seen how much hard work goes into building. Going to Honduras was extremely humbling and made me feel even more grateful for our home and to think that there were volunteers like us working hard to help my family.
The family we were working with had a baby the same age I was when our house was built. Habitat has done great things for my family and I have a lot of hope for the new opportunities Sonia's family will have.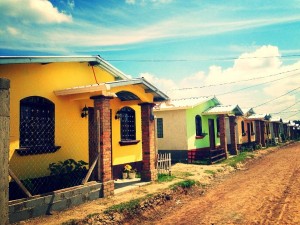 Another opportunity we had during the week was to visit a girl's home. We often take our parents for granted and forget how much they do for us. These girls have a family with each other and it was great to see how quickly they opened up and were willing to play games with us. The elementary school we went to was a public school for low income children in the area. A lack of education is often a problem driving poverty around the world. It was clear how much the teachers cared for their students and have so much hope that they will one day be able to get out of the situations they are in.
Over the past several years, Habitat for Humanity of Wake County has built houses in el Rosario. It was great to see the finished product and how proud the people living in them were of their home. You can't change the circumstances you were born into, but regardless of them, everyone needs a safe place to live and it's uplifting to see Habitat for Humanity help provide housing to anyone in need.
This blog post was written by guest writer Maya Blumenfeld, daughter of Habitat Wake homeowners.