Rev. Ted Churn, Executive Presbyter of the Presbytery of the New Hope, offered these remarks on why we build at a recent virtual dedication.
One of my after-worship memories as a pre-teen was greeting the pastor of our church at the door and saying, "That was a good sermon Pastor Garland, I liked it even better than the first time you preached it."  
I have had the privilege on a number of occasions to share with you a reflection on why we build. And though I am tempted to return and refine some of those former reflections, I know because of the opportunity I have been given here and now, I am called to share with you what's on my heart at this time and place.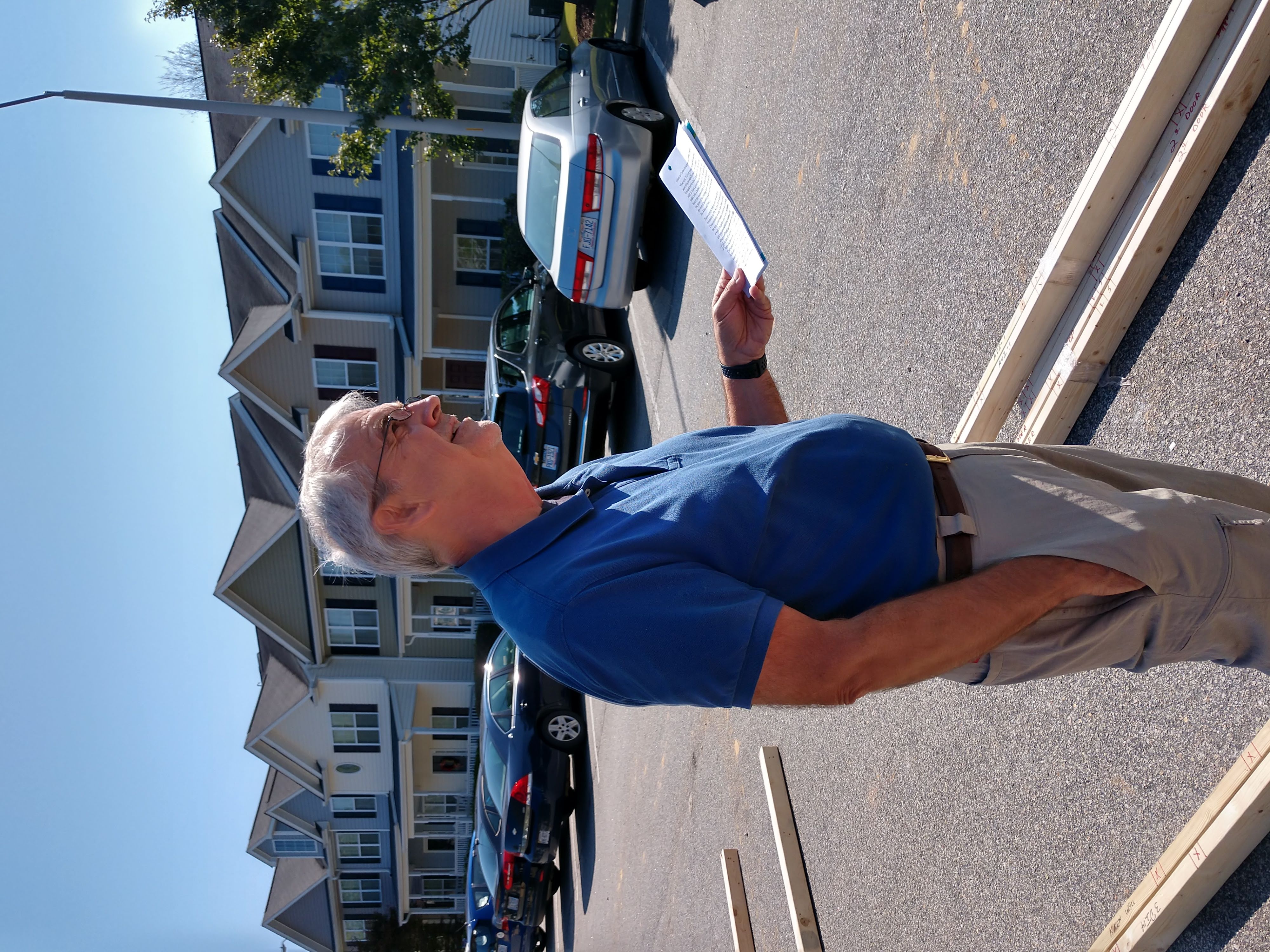 In this current environment, if you talk to any realtor, you will know that the housing market is going through the roof. It is a seller's market, and there are those who are fortunate enough to be in the place where they can make significant gain on the sale of their home. I was told just recently that one buyer offered $50,000 over the asking price. I don't know about you, but it boggles my mind. That is one world in which we live. 
But there is another world, one where the current housing market is completely irrelevant, because as hard as the people in this world have worked, as faithful as they have been trying to provide for their basic needs, the injustice they experience between the haves and have nots is too overwhelming. 
This is where Habitat for Humanity comes in. This is why we address and seek to articulate a response to the statement, "Why We Build." 
One potential answer to the statement why we build is "It makes us feel better about ourselves." You know, it's like checking off the good deed box. We do this so we can tell others what wonderful people we are, giving our time and our talent to building a home for someone who lacks housing. It helps us sleep better at night. But as grateful as I am for those who do commit their time and talent to building a house, the problem with that response is, it is about us. 
I had a professor in seminary who would preach at the seminary chapel and then walk out after she finished. I asked her one day: "Why do you leave and not hang around to greet worshipers afterward?" Her reply was "Because the word I preach is not about me, it's not about getting affirmation for anything I might say." I preach to help people better understand who God is and what God is doing in their lives. I want them to know that this is a God who is as near to them as the breath they breathe. 
Maybe that is why we build.  Not so that we can give ourselves a pat on the back, but rather out of an understanding that we were created to help those, and to love those, who lack what the Holy One desires for every child of creation. 
One of my favorite theologians, also a philosopher, is Pierre Teilhard de Chardin. He once said: "We are not human beings having a spiritual experience. We are spiritual beings having a human experience." And that human experience is lived out as we live into who we are as a people of the spirit, providing through our day-to-day human experience, the fashioning of a creation where all have the basic provisions for life—like a roof over their heads. 
And that is the best response I can give to the statement, "Why We Build". 
Rev. Theodore E. Churn 
Executive Presbyter/stated Clerk 
Presbytery of New Hope 
The Presbyterian Build brings most of the Presbyterian churches in Wake County together to annually build and strengthen relationships. The inaugural Presbyterian Build in 2015 got a jump start with a Passion Driven Ministry seed grant from the Presbytery of New Hope, which provided much-needed financial support and a very important endorsement. 
Since then, Rev. Ted Churn has been involved with Habitat Wake, speaking at dedication ceremonies, building on clergy days and encouraging Presbyterian churches to stay involved. Ted is also a personal donor. Ted's wife Moffett, also a minister, was interim pastor of Wake Forest Presbyterian Church when they became a key church in the Northern Wake Faith Coalition. Ted is retiring as Executive Presbyter at the end of this month. 
Learn more about how you can build with your faith community!