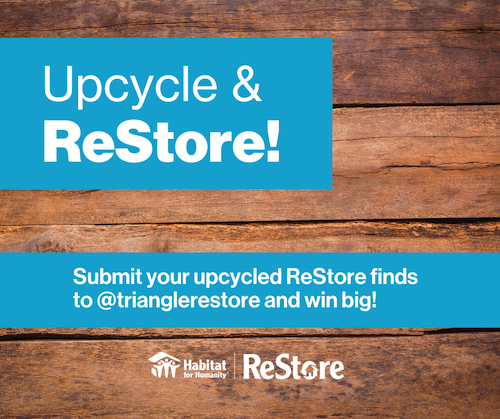 At the Triangle ReStores, reducing, reusing and recycling is the name of the game. Our ten area stores carry a wide variety of gently used home goods, furniture, tools and more. By donating those items that you no longer use, you are helping divert an estimated 5,000 tons of usable items from landfills annually, while also giving your stuff a second life! That is the ultimate win-win situation.
The ReStores are filled with hidden treasures and potential projects just waiting to be discovered. Looking for a way to show off your creative side while also sustaining our planet? Well, then we have the challenge for you!
To celebrate Earth Day, Our ReStores are hosting an Instagram contest to encourage customers to show off their upcycled ReStore finds.
What is upcycling? 
Upcycling is taking a well-loved item and turning it into something brand new. Have some old shutters laying around? Those could be the start of a great new storage cabinet! What about a rickety step ladder? It could be the perfect base to a one-of-a-kind plant stand. The sky is the limit with these DIY projects.
How is upcycling sustainable?
Just like when you buy anything at the ReStore, upcycling keeps usable items of the landfills. In addition to rehoming goods, upcycling reduces the use of natural resources that are needed to create new products. Do you have a dream of the perfect mid-century modern dresser? Instead of buying new, head to the ReStore and pick out a piece with potential. Remember, there's nothing a little sanding and paint can't fix!
Upcycling a ReStore find is a surefire way to make an item uniquely yours, and we want to celebrate the creativity and work that you put in to make it happen.
Submit your upcycled DIY creation to @trianglerestore on Instagram by April 19 for your chance to win a $250 gift card, valid at all 10 Triangle ReStores!
The finalists will be announced on April 20, and we will ask our Instagram audience to vote on the winning creation! The winner will be announced on April 22. Follow us on Instagram to stay up to date!
*Direct message your DIY project to @trianglerestore on Instagram. Be sure to include before & after pictures as well as the ReStore where your item was purchased.
Topics:
Topics