Last week Habitat Wake had the benefit of working with Coastal Federal Credit Union on the groundbreaking ceremony of 4911 Werriebee Drive in Raleigh. What was so special about this event was that Coastal is the Exclusive sponsor on this Habitat home. As the only exclusive sponsor this year, Coastal Federal Credit Union raised $100,000 for the purchase of the land and the construction of this home - an amazing contribution and achievement. Coastal was able to succeed in this venture through their "Share the Love" campaign which included social media interaction with their employees, members, and others who had the opportunity to engage and contribute to this effort.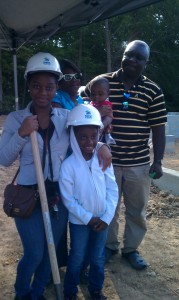 The Koledji family will be the proud owners of this Habitat home. Having escaped the devastation and destruction left by Hurricane Katrina, this family was brought to Raleigh to make a new life. Believing in hard work and determination, the Koledji's have embarked upon a dream of home ownership for their growing family. Committed to making a new beginning, they are actively participating in their 250 "sweat equity" hours and the excitement of making this house a home.
Approximately 25 people attended the groundbreaking ceremony with an additional 15 volunteers who where on-site and anxious to get started on the construction of this home. Lauren Stranch, Networking/PR Specialist with Coastal opened the ceremony. Creighton Blackwell, VP of Branch Networks and Community Engagement, who was instrumental in bringing together Coastal and Habitat Wake, introduced Joan Nelson, Chairwoman of the Board as well as, Chuck Purvis, President/CEO of Coastal Federal.
Several members of Habitat Wake were present, as well as Board member John Towles who provided the overview of this project. This home is one of several Habitat home construction projects underway. Habitat Wake will build 32 new or rehab homes in Wake County, complete 35 "A Brush with Kindness" projects, and provide funds for 35 new homes in Honduras this year. Habitat's vision is a world where everyone has a decent place to live. With the contribution and partnership of organizations like Coastal Federal Credit Union, this vision is possible!
We encourage you to return to this blog as we will post updates on the progress and construction of this home so that you can see the love, commitment, and hope that goes into each and every Habitat home!