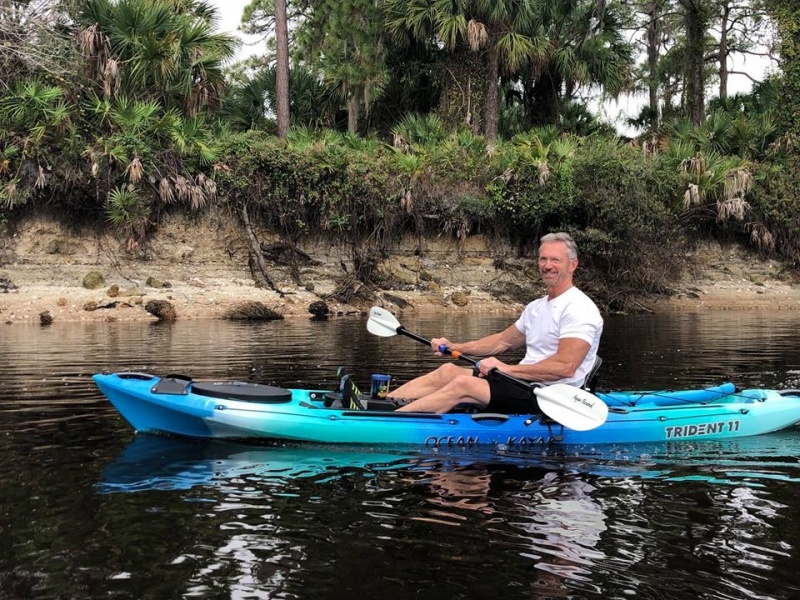 Where did you grow up? I was born in Cumberland, Maryland which is in the far west part of Maryland and was a coal and lumber country at the time.  But, since my father was in the Army and was transferred every 9 months to a year, I grew up all over.  I was what a lot of people call an "Army Brat". So, besides Maryland, I lived in Oklahoma, West Virginia, South Carolina, Georgia, Alabama, Germany (for 3 years and 3 different places) and even Alaska.  Alaska was my favorite and I hope to get back there for a visit someday.  Unfortunately, when my father came back from his second tour in Vietnam, my parents divorced and my mother moved us back to western Maryland where she was originally from and that is where I went to high school.  
How many children do you have? What are their names? Ages? Beth and I have 3 children. Katie (28), Kelsey (26), and Ryan (24).  Katie lives in Charlotte and went to App State, Kelsey lives in Charlotte as well and went to UNCC, and Ryan lives in St. Petersburg, Florida and went to FGCU (Florida Gulf Coast University)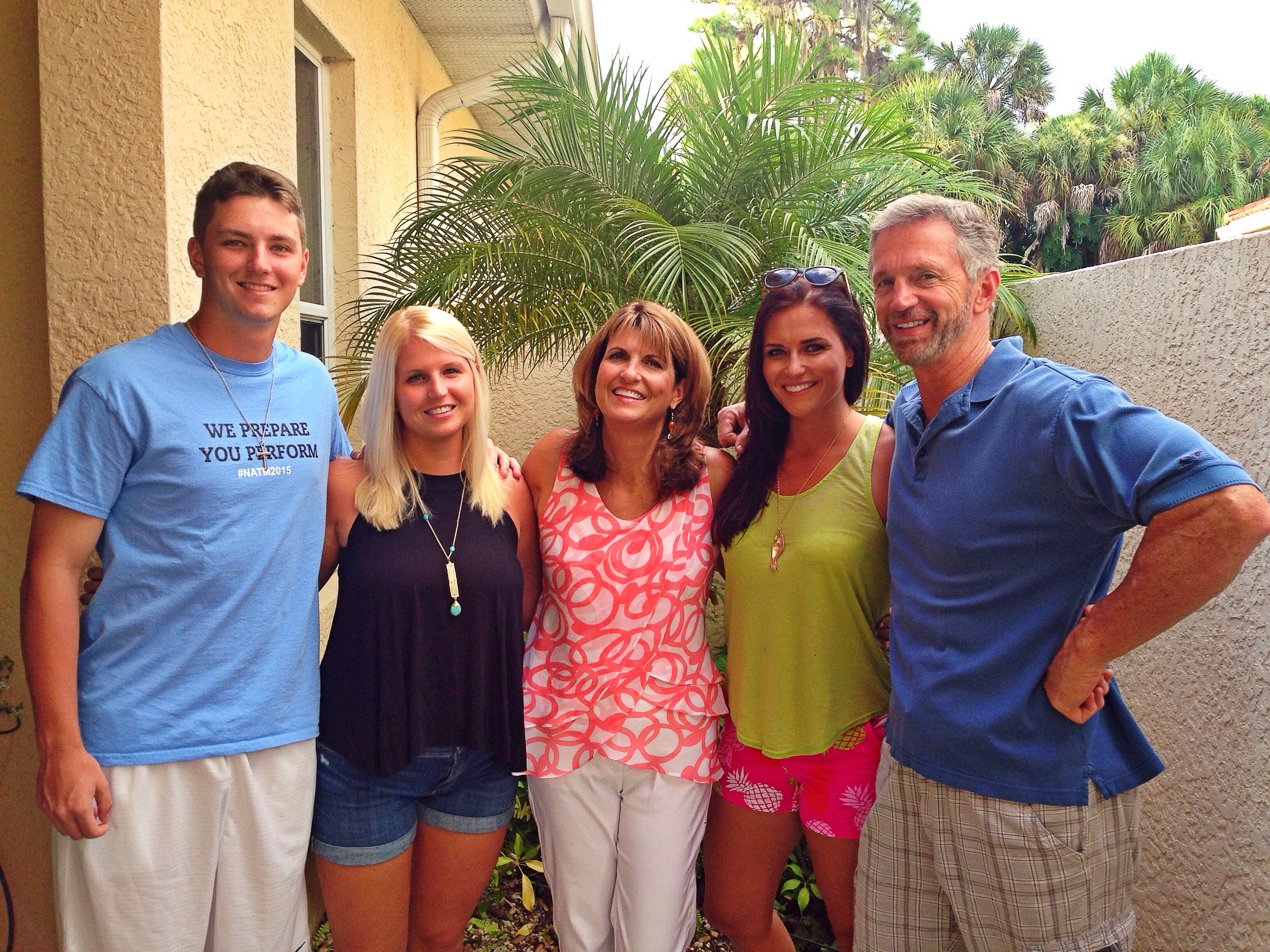 (Left to right): Ryan, Katie, Beth, Kelsey and Bill posing in front of their Florida home.
Do you have any pets? Beth and I have had lots of pets in our 30 years together, mostly dogs and cats.  Over the past few years, our two large labradoodles passed away of old age and we decided to take a break from pet ownership.  This was mostly driven by the guilt we would feel whenever we wanted to go away and leave them with someone else or board them, so we passed up many opportunities to travel together.  But, once we get settled here, we want to get pets again.  And when we do, we will get them from a rescue or shelter.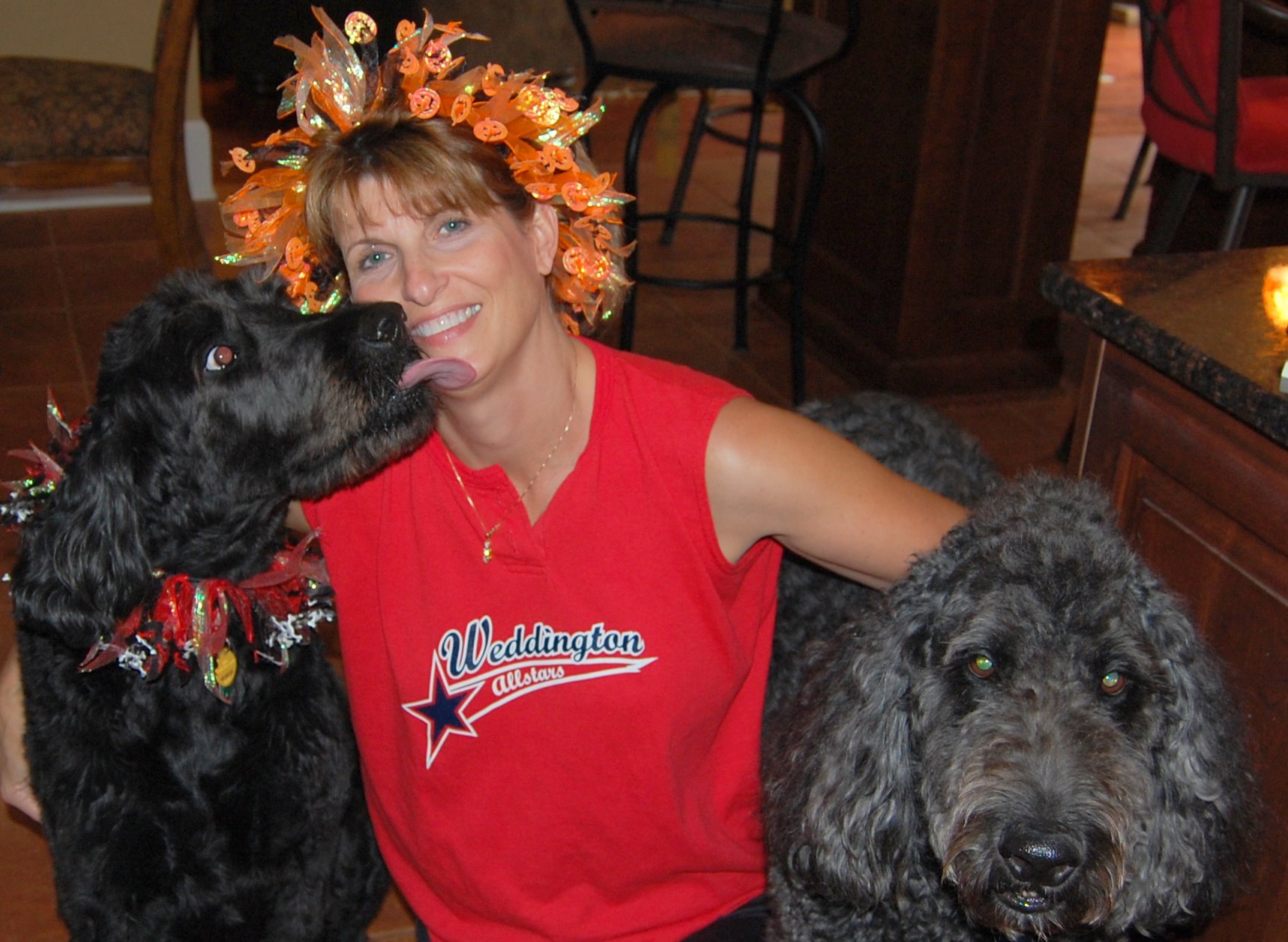 What's your favorite food or place to eat? Without question, my favorite food is steamed crabs, Maryland style using the seasoning JO#2. After that it's anything with jumbo lump crab meat.  I love to cook and my wife hates it, so we complement each other very well in that I do the cooking and she does the cleaning up.  So, since I love to cook, we don't eat out much and besides, we seem to be more disappointed than not when we eat out.  We don't have a favorite restaurant here yet but of all the chains, we tend to like Outback and Bonefish the best.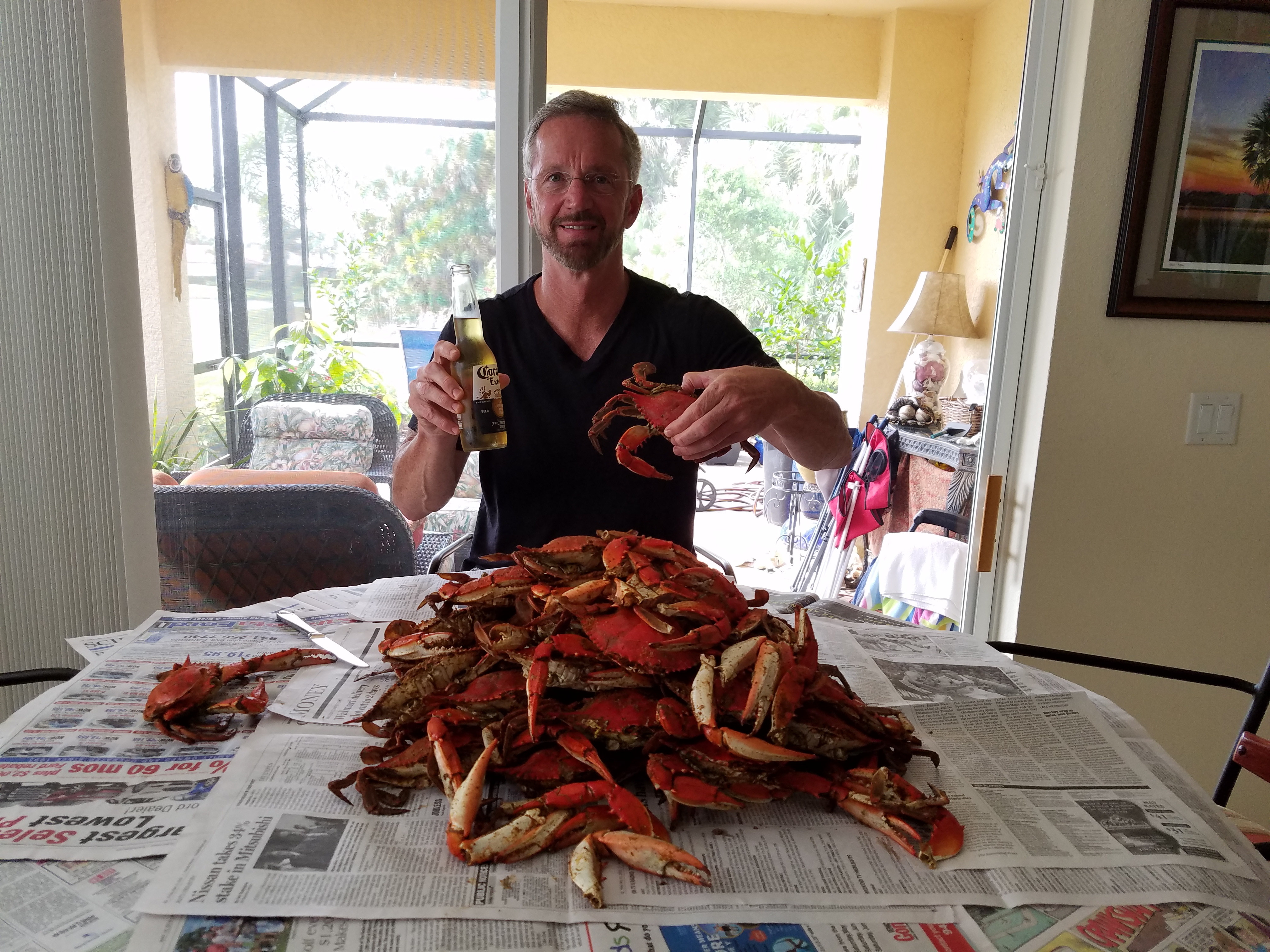 What is your favorite childhood movie? I can't say I had a favorite childhood movie but I loved a lot of TV series like Batman, Star Trek, and all the cartoons on Saturday morning.  But, I do have a number of favorite movies that came a little later like Jaws, Home Alone, and Santa Claus (with Tim Allen),  Animal House is also one of my favorites because I was in college when it came out and boy did it have an influence on college life.  And, I have to admit, back in the day, I was involved in a few food fights and attended a few toga parties.
Where is the coolest place you've visited? When I lived in Alaska, we visited lots of cool (and cold) places.  And, whenever my father was transferred, we'd take the old Rambler station wagon to get there over several days or even weeks like when we moved from Maryland to Fairbanks, Alaska.  I've been to Yellowstone, Yosemite, Mt. Rushmore and Mt. McKinley, to name a few cool places.  During my career with the Fed, I had to travel a lot all over the country (we had 48 offices at the time).  My favorite cities were San Francisco, Boston, Chicago, Baltimore, Seattle and San Antonio.
What would you say is your most memorable experience? Most recently, it was the moment I got the phone call offering me the job with Habitat Wake.  Beth was sitting next to me and we were thrilled.  After that, it was being selected to be the Designated Hitter in the movie Major League 2 with Charlie Sheen, Tom Berenger, and Corbin Bernsen.  I was a baseball player in college and had some success being selected for the prestigious Cape Cod Baseball League, being named All-American my senior year, and ultimately being inducted into the UMBC Athletic Hall of Fame.  I couldn't get baseball out of my system so I continued playing in amateur leagues in the Baltimore/Washington area and then one day my team called me and said a bunch of them were going down to Memorial Stadium (the Baltimore Orioles old ballpark) to try out for a movie.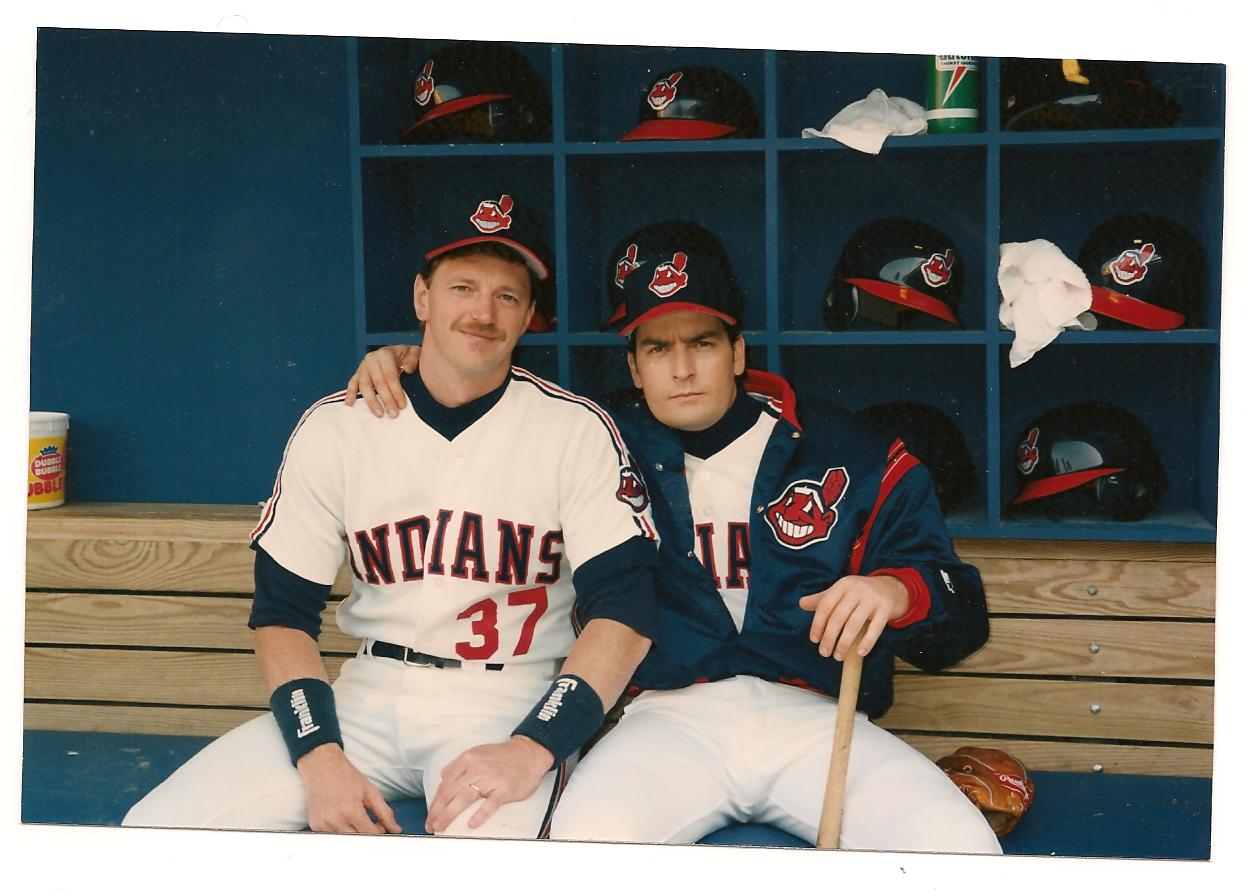 Bill and Charlie Sheen photographed on the set of Major League ll. 
I almost didn't go figuring it would be a waste of time but Beth said just go and have a fun boys night out. So I go and there must have been hundreds of ballplayers from all over the country there to tryout.  It was a real baseball tryout with each of having us having to bat, catch, throw, etc.  I'll never forget the adrenaline surging through my veins and when I got my shot, I did very well.  I had to go through two more tryouts and finally, the casting agency narrowed it to what they called the "Core Cleveland 11" and I was one of them.  There was just one problem, I was an AVP at the Fed at the time and the casting agency wanted me to work full-time on the movie for at least 6 to 8 weeks (but it end up being 14 weeks).  Fortunately, I worked for very supportive and amazing management (who were big baseball fans as well) and we worked it out.  The first few weeks were pretty cool getting to work side-by-side with all the stars and getting to see how a movie was made.  But, after about a month or so, that wore off and it started to feel like any other job and the "star struckness" wore off.  I've got so many memorable experiences, cool stories, pictures and behind-the-scenes videos but that's for another day.  So, if you try to find me in the movie, I'm mostly in the background sitting on bench, hanging out in the locker room, or on the on-deck circle. I did get one choice scene where I'm sitting on the training table with a black eye -- a real one.  I actually got knocked out in the fight scene just before it so they started that scene focused on me.  Enough for now but it was a very memorable experience.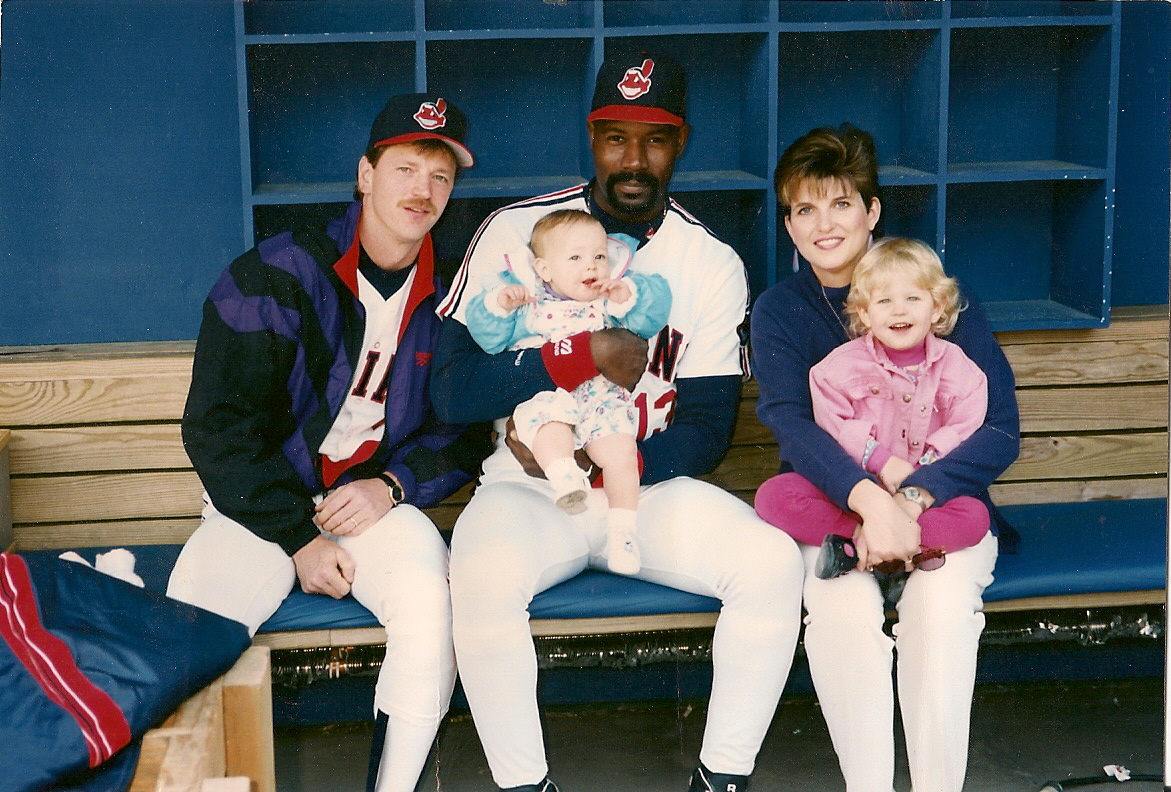 Wait -- isn't that the All State Insurance guy? Bill, his wife and two daughters posing with Dennis Haysbert.
What was the path you took to get to where you are today?  Interesting question.  I feel that my personal and professional life has been an amazing journey, filled with many ups and downs, and it wasn't until recently that I realized that it was preparing me and leading me to a leadership role with a large Habitat somewhere in the country.  It wasn't until I assumed the interim Executive Director position in Florida that I realized that is what I wanted to do and that my life's experiences had perfectly prepared me for the position.  Some of these include: growing up as an "army brat" and having to adapt and develop people skills; working construction jobs in summers for home builders, finishing the basements of three homes I've owned; majoring in Economics; working in retail early in my career as the IT Director and then owning my own retail business for 6 years; working for the Fed for 27 years and getting management experience in Operations, IT, Facilities, Security, HR, Accounting and, most importantly, Food Services; serving on the Boards of numerous nonprofits with my favorite being Habitat for Humanity; extensive experience advocating for Habitat and the Federal Reserve, and lots of involvement with fundraising.  But, probably the most significant experience in my journey that has led me here occurred about 12 years ago when I was on the Board of Habitat for Humanity in Union County, NC.  It was a day I'll never forget and it was my first home dedication.  I've never been much of a "crier" but that day changed me forever.  The tears flowed and it felt so good to see and feel what all the hard work, time, and money that all of our volunteers, staff, donors, Habitat homeowners and many others had put into making that amazing day happen!  On that day I tell everyone that I became "Hooked on Habitat".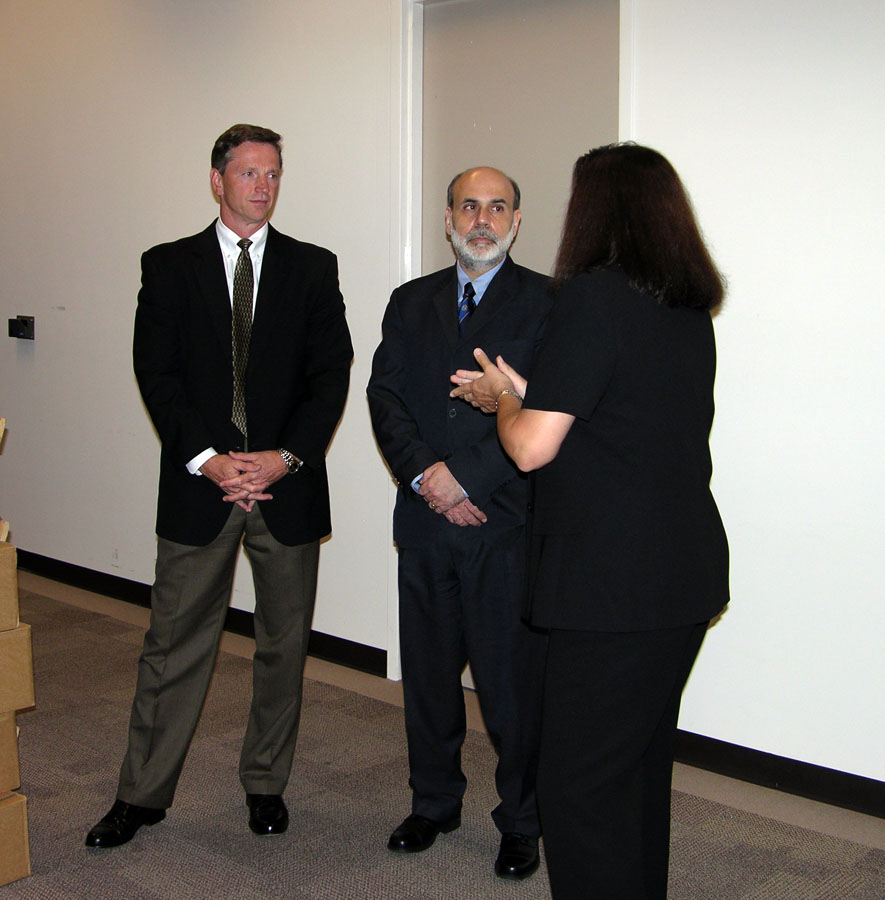 Bill giving a tour of the Charlotte Fed with Ben Bernanke, chairman of the Federal Reserve System.
What is the most exciting part about being in your new role? Our affiliate is already an amazing organization with so many talented and dedicated people and supported by an incredible community of board members, volunteers, businesses, donors, and many others.  I am just so excited to be a part of that and to be given an opportunity to make it an even better place especially in terms of our work culture and advocating for Habitat and affordable housing on a local, regional, and national level.  One of the major reasons for staying with the Fed for so long was because they truly cared about its people and always went out of their way to do the right thing for them even if it cost a little more to do so.  It was an environment that provided its people with the quality resources they needed to get the job done and in a workplace that they were proud to be a part of.  It is my hope to work with everyone so that we can replicate that feeling and make it a place where everyone looks forward to coming to work and making a difference in people's lives.  I am big into team building activities and developing good work relationships among staff.  As an ex-athlete that played on numerous teams, the ones that were the most successful were the ones that had great chemistry, camaraderie and strong relationships with each other that came together to achieve its goals and win championships.   I look forward to being part of a team just like that!
Anything else you'd like people to know about you?  I think they may know more than enough about me for now but more to come as time goes by.