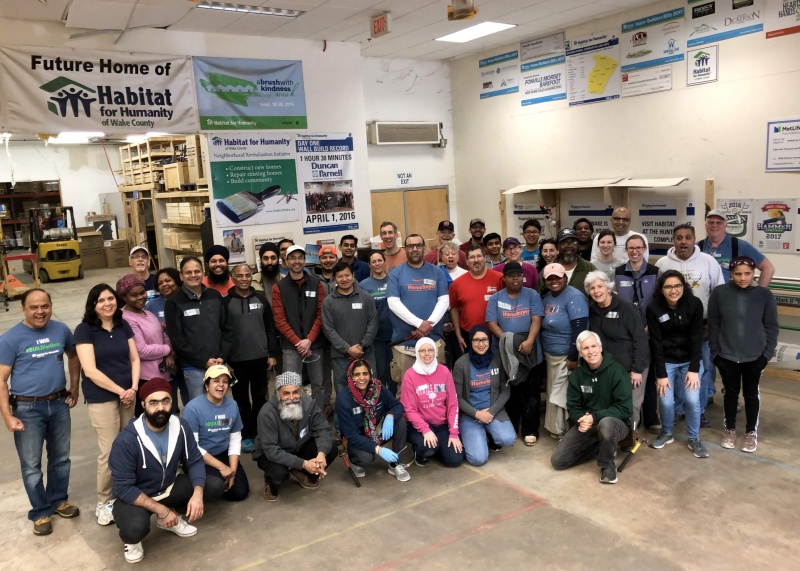 Seeking to put God's love into action, Habitat for Humanity brings people together to build homes, community and hope.
"The basic truth in all religions, irrespective of country or race, is one and the same. The philosophic ideas or the practices and methods of approach may vary. But the final objective and goal is only one.... preach the cultivation of Universal Love, without regard to caste, creed, country or color." -Indian Guru and spiritual teacher Sathya Sai Baba
A group of volunteers from 13 faith communities from the Jewish, Islamic, Christian, Hindu, Buddhist, Sikh, and Sai traditions comprising the Interfaith Build Coalition gathered over the weekend to team up and tackle the need for affordable housing and fight back injustice.
The Interfaith community spent the entire weekend connecting in fellowship and building and raising the walls for Habitat homebuyers Loubna, Youssef and Reda. During the ritual wall raising ceremony, everyone joined in moments of prayer and solidarity to remember the lives of those that were lost in the recent New Zealand mosque shooting and to stand with Muslims and all victims of hate.
"We stand here together with all of you not seeing Christians, Muslims, Buddhists, Jews and other believers – we see sisters and brothers – we see one family, all children of God," Habitat Wake volunteer and member of Raleigh Sai Center Ravikant "Ravi" Varanasi said. "In these tumultuous times, when some argue for walls to keep people out and others with irrational fear and hatred resort to violence, we have come here together out of love."
As a Christian organization, Habitat provides many opportunities for people to put their faith and love into action. The kick-off weekend for the Interfaith Build emphasized our philosophy to aim to keep God at the center of our work, and it also solidified our theology of the hammer which speaks to the importance of community and the promotion of people coming together to love one another in unity. Through shelter, we continue to strengthen the lives of our future Habitat homeowners, as they work to build a better future for themselves and work alongside volunteers who seek to build a better world.
"We pray that Loubna, Youssef, Reda and their little one to come may always find sanctuary in these walls, that with each nail added to their home, they may be more firmly connected to one another and to you, that they may feel the unshakable assurance that you guide them and protect them," Rev. Diane Faires said. "May they find peace in the shelter of God's presence."