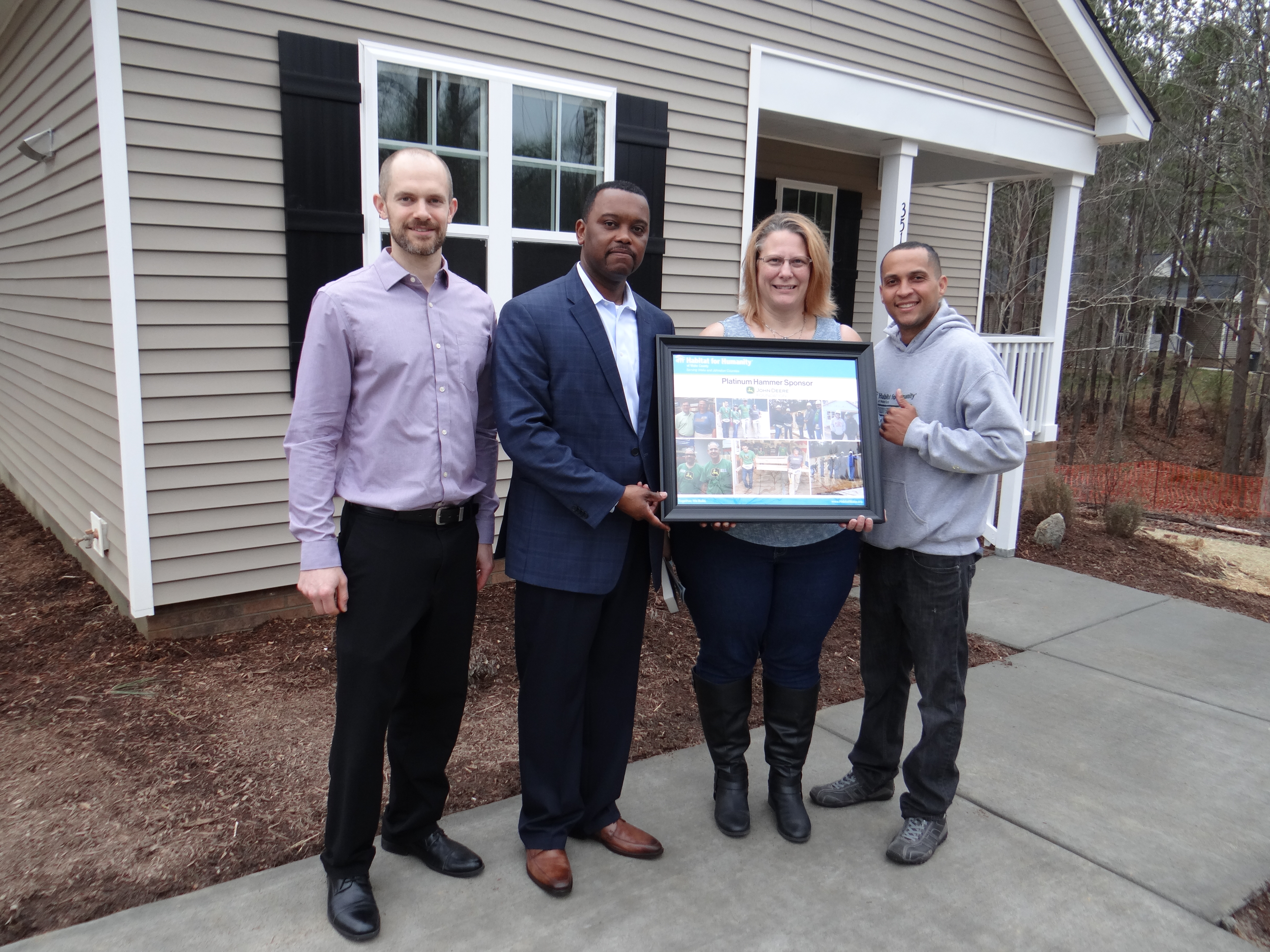 Habitat Wake homeowner Tami excels at building homes and relationships.  The West Coast native and mom of three recently moved into her new Holly Springs home after completing nearly 600 hours building her home and others.
In addition to learning to build a home, Tami's hours onsite also helped cement relationships with Habitat staff and volunteers (including many representatives of her sponsor, John Deere), and with other homeowners. Although Tami juggles a busy schedule with her job as an executive assistant with Manpower and with her children, she is excited to help build a Habitat Wake home in Fuquay-Varina in the coming months. "I plan to help (homeowner) KB with her home, as she helped with my house," Tami explained.
Learning to build a home has been the most rewarding part of Tami's Habitat experience. She gleaned knowledge from the different construction supervisors she met on site.
"I would encourage anyone building a home with Habitat to be patient, ask lots of questions, and soak it all in," Tami commented. "Take tips from the various supervisors to apply to your own home when it is time to build. Don't worry about never building a home before, that is what the site superintendents are there for …. to teach you what to do."
Tami treasures the relationships she built during the process. "It was amazing to see the different people who came out to volunteer and where they all were from. For instance, we had a group originally from Cameroon Africa and who now live all over the United States. They get together once a year for a service project and this year it was in the Raleigh area working on my home."
In addition to completing volunteer hours, which Habitat refers to as "sweat equity," Tami also completed homeowner education, paid a down payment, and has assumed a mortgage with monthly payments that are less than 30 percent of her monthly income.  
Hats off to Tami for successfully building her home, and many new relationships with Habitat Wake!