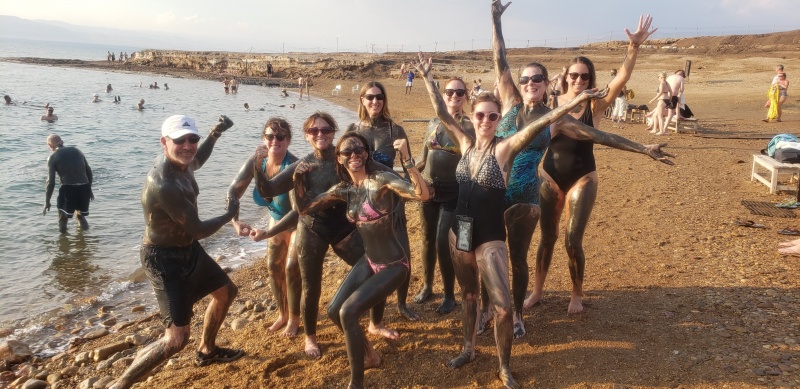 This blog post was written by global village trip volunteer, Megan Casey.
It is always hard to say goodbye to our family and friends we have made on the build as it was when we left Aljoun yesterday and returned to Amman.  It did make it a little easier knowing we were going to get some R&R and see the historic sites of Jordan on Saturday. We boarded the bus early after a great nights sleep at the Kempinsky hotel in Amman and headed to Madaba. Here, we learned and saw the oldest mosaic map (mostly intact) of the Palestine region.  It is from 560 A.D. The map shows all the major biblical sites of the Middle East, from Egypt to Palestine. From there, we toured an artist studio where they make mosaic tables and art -- truly amazing!
We then traveled to Mt. Nebo from which you could see for miles and miles. This is where Moses led the Israelites.  From here, he could see the Promised Land that he would never enter.  He died on Mt. Nebo according to history. From Mt. Nebo you could see Jericho, the oldest city in the world.  After much picture taking, we went to the River Jordan. The River Jordan was crowded as it is known as the baptismal place of Jesus. There were many on the Jordanian side getting baptized in the river as well as on  Isreal's side of the river. In addition to being a spiritual site for many it is also the border between Jordan and Israel.  It is a little surreal to stand on the side of the River Jordan and look across 30 feet and know you are looking at Israel.
Of course, we couldn't end the day there.  We headed to the Dead Sea for a bob and some MUD!  It is very true that you float in the Dead Sea and that it is very, very salty!!!  We all reverted to our internal child and had a great time bobbing around.
It was a great first day of seeing a tremendous amount of Jordan.  We had a guide, Yosef.  He is a walking encyclopedia of Jordan history which he gladly shared with us.  His guidance and knowledge only added to a great day.