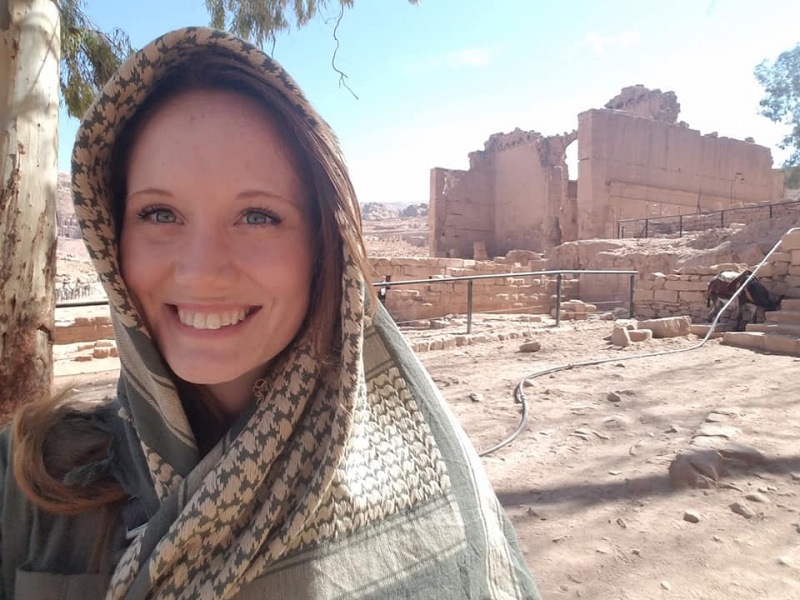 This blog post was written by Habitat Wake Volunteer Engagement Coordinator, Angie Rizzo. 
We are staying in a guest house in the neighborhood and it was the first morning where I felt like I knew the route and recognized the faces we passed as we made our way to the work site. 
Eager to continue the build, we sprung into action, creating a line to pass bricks into the rooms. We quickly felt our muscles from our last brick passing line but were so happy to see the walls going up! Cement was mixed with shovels and passed in buckets and we continued to build. As the walls grew higher, fewer of us could work together due to the limited space on the scaffolding so a few of us focused on the other part of the mission: building community.
The family we are working along side, has three young children, Hadeel (2), Suliman (6) and Rickiah (9). Emily and Carolyn have backgrounds leading summer camps and easily had the children laughing and playing. It's funny how language and cultural barriers don't hinder having fun!
Our soccer ball flew and bounced around the rocky terrain, chased by huge smiles and giggles and shouts in Arabic and in English. As Suliman started to somewhat tire, we shifted the game to tossing the ball back and forth while practicing each other's names. Noseybah (mother to the three), joined us and you could just see her swelling with pride and laughter as Rickiah named us correctly and Suliman mixed up Michelle and Angie. 
At the end of the day, we had walls up to our eyeballs and it is starting to really feel like a home. As we cleaned up the tools, Noseybah pulled Andrea to one of the windows in the back rooms to take in the view. With a sweeping motion of her arm, she seemed to excitedly say, "look at the view from my new bedroom!"
What an amazing feeling to be a part of this building of hope and community! Oh, and of course, this home.