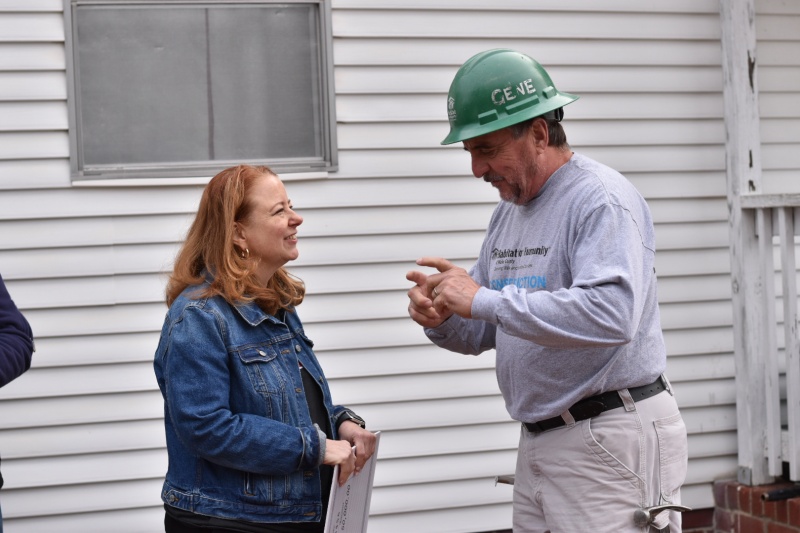 This month and every month, Habitat Wake celebrates the women who further our mission of bringing people together to build homes, communities and hope.  
As we celebrate and reflect throughout Women's History Month, we want to highlight our leader, and Habitat Wake's first-ever female CEO, Patricia Burch.  
Patricia uncovered her passion for nonprofits in the early days of her career, when she worked at the Alabama Shakespeare Festival. Inspired by this discovery, she returned to school for a Masters of Business Administration. 
After earning her MBA, Patricia found her way to Habitat for Humanity, first serving as an Operations Coordinator at Habitat for Humanity of Greater Birmingham and moving her way up to Executive Director of that same organization. More than 16 years later, Patricia joined Habitat Wake in October 2022 and became the organization's first female CEO.  
"Being Habitat Wake's first female CEO is an honor that I do not take lightly," Patricia said.  
"Although there are many facets to what we do, the most visible is construction, so being a female leader in a male dominated industry makes it even more meaningful."  
Habitat for Humanity has long been a place where women thrive in leadership roles, and Habitat Wake is no exception. Women make up more than 70% of Habitat's management positions, compared with 35% nationally, making us an outlier particularly in the construction industry.  
Today, Patricia values the opportunity to lead and mentor others. Her advice to women entering the workforce today is to not be afraid to take up space, and to act when they feel the urge to.   
"Use the uniqueness of the way you approach things to your advantage," she says. "You are enough, just as you are." 
While the landscape of inclusivity in the workplace is evolving, women are still largely underrepresented in leadership roles. They are likely to be paid less than their male counterparts, which in turn means they face additional hurdles when becoming homeowners. On average, female homebuyers can only afford one in every four homes on the market that men can afford. Additionally, Black female homebuyers face dual discrimination and are often declined purchase offers.  
As we continue to celebrate the contributions made by women at Habitat and beyond, we also recognize the ongoing issue of affordable housing and how it disproportionately affects women in our communities. Habitat Wake's vision is a world where everyone has an affordable place to live.  
Patricia brings her deep Habitat experience and her passion for serving the community to the table each day. She assumed her leadership role at Habitat Wake during an affordable housing crisis, and aims to respond accordingly.   
"There is so much work to be done to make sure more people in our community have access to housing," she said. "I am excited to work alongside the team to come up with creative solutions for how our mission can serve the biggest need."  
Learn more about how Habitat Wake builds to bring women home
Sources: 
Zippia. "25 Women In Leadership Statistics [2023]: Facts On The Gender Gap In Corporate And Political Leadership" Zippia.com. Nov. 9, 2022, https://www.zippia.com/advice/women-in-leadership-statistics/ 
"A Snapshot of Race and Home Buying in America." Www.nar.realtor, 21 Feb. 2020, https://www.nar.realtor/research-and-statistics/research-reports/a-snapshot-of-race-and-home-buying-in-america.