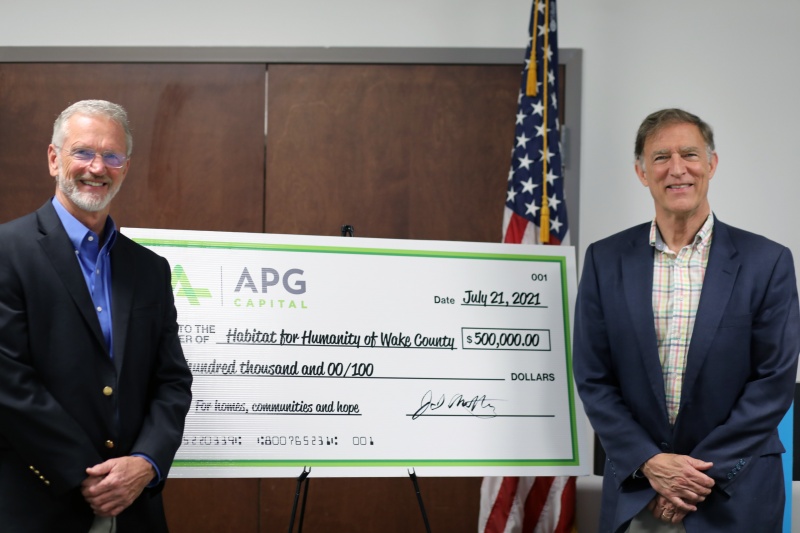 Contact:
Olivia Bowler, Director of Communications
Habitat for Humanity of Wake County
olivia.bowler@habitatwake.org
Office: 919-744-2495
RALEIGH, NC – Habitat for Humanity of Wake County has received its largest gift to date through APG Real Estate, also known as Anthony Property Group, owned by Jim Anthony, the Raleigh-based real estate entrepreneur. The $500,000 gift was pledged by Jim Anthony and Kendall Oliver as partners in a land sale they made to Habitat in the Town of Garner. The 74-acre site is one of three parcels that will eventually become part of a Habitat Wake community in Garner. The land sale and historic gift together provide a significant boost to Habitat Wake's strategy and vision over the next several years: the land sale bolsters Habitat Wake's land bank by 170 buildable lots and will allow Habitat Wake to consider large-scale community building efforts that would have previously been limited by lot availability.
"This land sale and gift will enable us to take on projects at a scale we never could have imagined before," said Bill Ahern, Habitat Wake President & CEO. "With this parcel and the surrounding land we have purchased, it is our goal to make homeownership affordable for hundreds more families, right when they need it most." He continued, "I am so excited that my friend Jim Anthony was able to complete this visionary gift. This is the kind of impact investing and giving that he and we hope to inspire among other real estate investors everywhere."
"Business is most fun when your God-given gifts and stewardship of His assets come together with and for service to the community. With an organization that is as well respected and impactful as is Habitat for Humanity, the fun gets doubled," said Jim Anthony. "Frankly, I'm anxious to share our model of giving with other real estate investors and developers all over the country, to exponentially benefit communities with the expansion of great stewardship through affordable housing development."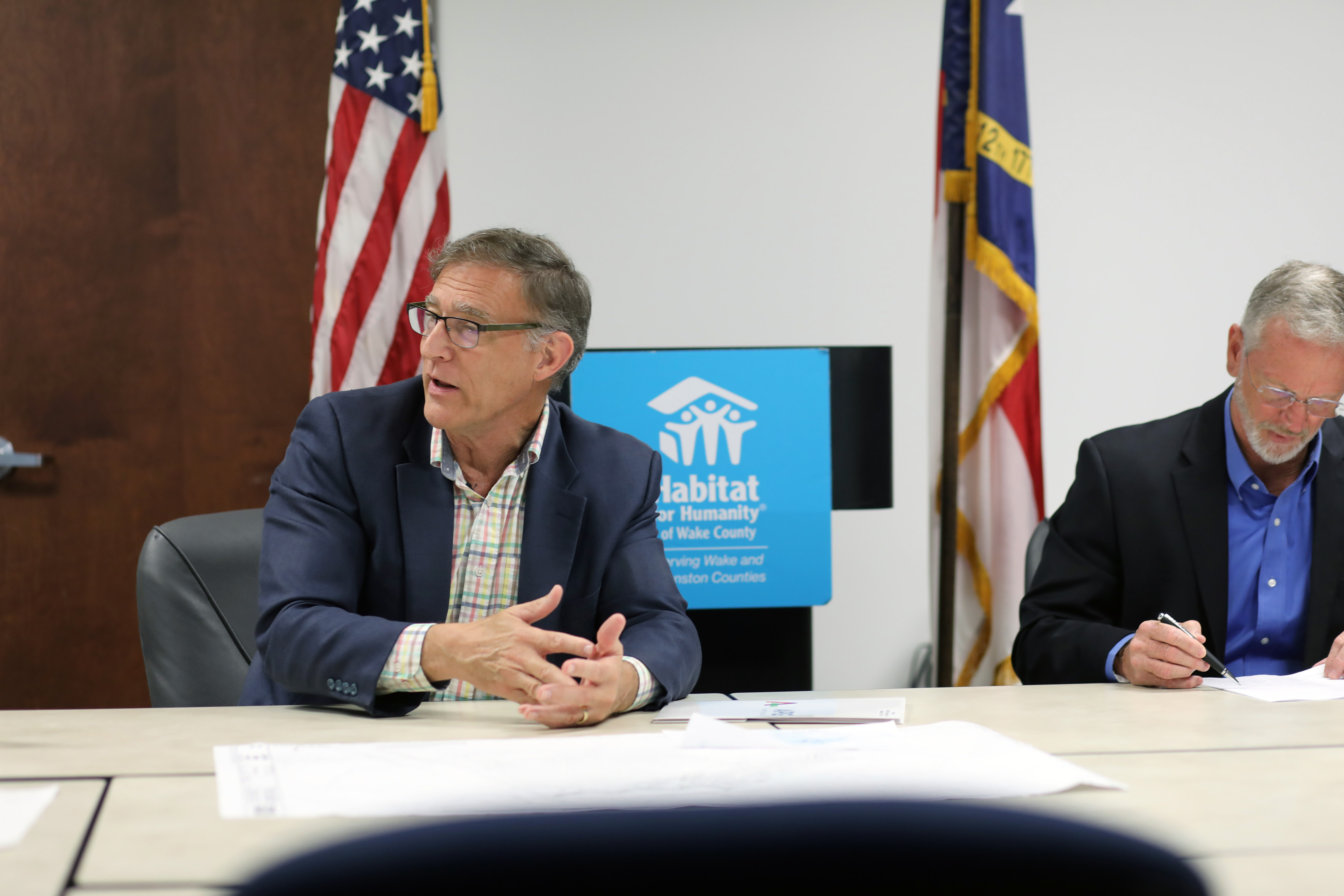 The gift comes as the need for affordable housing in the Triangle is at an all-time high, especially as families weather the ongoing economic effects of COVID-19. Even before the pandemic, one in four local families was cost-burdened, meaning they paid too much of their income toward housing at the expense of other necessities such as groceries, healthcare and education.
###
About Habitat Wake
Seeking to put God's love into action, Habitat for Humanity of Wake County brings people together to build homes, communities, and hope. Since 1985, Habitat Wake has joined with sponsors, volunteers and families to build more than 800 safe, affordable homes in our community. Qualified homebuyers pay an affordable mortgage and invest 200 hours of sweat equity building their home. This year, Habitat Wake is building 50 new homes locally and completing exterior repairs on 40 homes. Financial support is provided by corporate, foundation, faith and individual sponsors, as well as by the Habitat for Humanity ReStores. Habitat Wake is a nonprofit, ecumenical Christian housing organization that welcomes people of all races, religions and nationalities to partner in its mission. To learn more, visit habitatwake.org.
About APG Capital
Anthony Property Group (APG) was founded in Raleigh, NC in 1987 by Jim Anthony, who entered the commercial real estate business in Los Angeles in 1979. Today the Company has clients from around the world, working with virtually every property type throughout the Southeast USA. APG provides advisory services, as well as investment and development opportunities for third parties and syndicates. For more information, visit our company websites:
Or contact Regina Anthony at ranthony@aacre.com or 609-792-1037.