It's been a while since we've posted a blog entry and, well, that's because we've just plain been busy!
We built an entire house on site at and during the NC State Fair.  Thanks to many North Carolina building products companies and the NC Departments of Commerce, Health & Human Services and Agriculture.
We made presentations at Habitat's state conference at Lake Junaluska in Haywood County.
We attended the NC Affordable Housing Conference in Raleigh.
We sold six homes to some amazing partner families.  They were excited!
We held a board retreat taking a 10 year look at land acquisition and product design to ensure that our program can continue to grow and serve more families as the need in our community grows.
We launched the 2017 CEO Build with our partners at Habitat Durham and Habitat Orange.
We made great progress on our historic Build-A-Block partnership with NC State University….building the first five of 11 townhomes on Lake Wheeler Road.  We received a $120,000 check on the field at NC State's Homecoming Game vs. Boston College.  All those funds raised by students!
We launched our 2017 Global Village trips to Honduras and Cambodia with informational meetings for prospective team members.  The response was the largest we've ever had!
Our Women Build homes progressed nicely toward completion in Crosstowne.  Habitat Wake women staff members took a day out to build on site.
We welcomed Rachel Zeitler to our staff to lead our advocacy efforts.  You'll be hearing more from her in this space as she takes on the role to educate the community around the need for housing.
BUSY MONTH.  GOOD BUSY.  BRING ON NOVEMBER!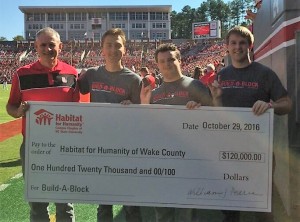 Kevin Campbell joined Habitat Chapter at NC State leaders Parker Colbath, Tripp Pearce, and Alexander Simpson during halftime of NC State's Homecoming game to accept the group's contribution to Build-A-Block.