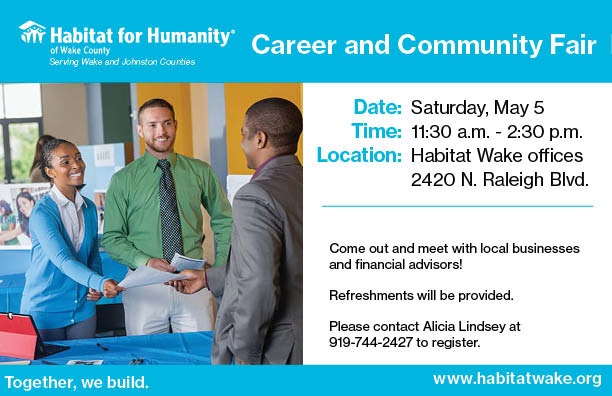 Habitat Wake will host a Career and Community Fair on Saturday, May 5 from 11:30 - 2:30 pm. The event is open to the public and will provide the chance to learn about community resources and local businesses. Participating businesses include The Children's Place, Manpower, Habitat Wake, Holt Brothers Construction, SECU, State Farm, StepUp Ministry, SunTrust Bank, and Telamon Corporation.
The Community and Career Fair is a free event and pre-registration is not required.  
"At Habitat Wake, empowering members of our community goes beyond creating the opportunity of homeownership," said event organizer Alicia Lindsey, homeowner engagement manager with Habitat Wake. "This event is part of our Neighborhood Revitalization program, which helps to connect the community with resources from tutoring to career mentoring. Our goal for this event is to help our homeowners or any one in the community to learn about ways to improve their employment or financial situation."
For more details, contact En'Janet Joseph (enjanet.joseph@habitatwake.org) or Alicia Lindsey (alicia.lindsey@habitatwake.org) with Habitat Wake.